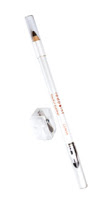 There are a few things I'm ALWAYS game to try and, as you know, brown eyeliner is one of them. I love a wacky jewel tone from time to time, but my everyday makeup routine is kind of permanent. Brown liner, some tinted moisturizer or foundation depending on my skin situ, creme blush or bronzer (sometimes both), mascara and some balm and/or gloss is my typical roster of cosmetics I use on a daily.
But, I find that as a light-eyed blonde with a fair complexion, when I wear black eyeliner (except at night when I'm going out), it's a bit extreme. A bit tarty. A bit too Sandy from Grease when she emerges in full black spandex regalia and sings Better Shape Up:
Unfortch, my MAC Technakohl Liner in Brownborder, which I'd packed for my trip, expired mid-weekend. Disast. Luckily for me, Redpoint supplied samples of their liners at the Intelligent Beauty party so I grabbed one and tried it out. Girls, I am DEEPLY into it. Conga (so Gloria Estafan circa 1987, right?) is a rich, warm brown and glides on with the greatest of ease. Its long-wearing, water-resistant, non-smudgable formula features their anti-aging TriPeptide complex to hydrate and smooth your eye area. The built-in smudger softens and blends. BONUS: A sharpener is included to create the perfect point every time. Memo to beauty companies: sharpeners, brushes, and MIRRORS should be included with as many products as possible.
Swipe some on and be all,"Tell me about it, stud."
Photo credit: redpointbeauty.com
Click here to enter Total Beauty's contest to win a Saturn Vue Hybrid.