Official Mascara Correspondent Ashleigh Ciucci test-drives Trish McEvoy Thickening Mascara this week. How does she fare? Find out. The review, in Ashleigh's words.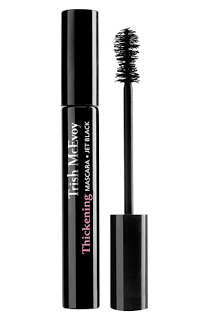 "This mascara is undercover fancy; the tube is clean classic shiny black but the brush is out-of-this-world!  With a lopsided-hourglass shape, this brush is unlike any mascara brush I've seen.  It's strange to wield because you're not sue which part of the brush offers the most pop.  The tip provides the product, the dip in the middle keeps it from clumping and the base of the brush is good for spreading the formula around.
With one coat, my lashes were soft and fluffy, very flirty.  With a second coat, I noticed the formula was a bit dry already and gave a subtle thickness at the roots with nice separation. By the afternoon, the product had softened a bit for a good touch-up, about double the volume.  At the end of the night, it washed off clean with soap and water which you know I love.
This is a mascara for the mascara connoisseur; you're gonna want to try this brush!"–Ashleigh Ciucci
Buy Trish McEvoy Thickening Mascara at Nordstrom for $30.

Like this post? Don't miss another one! Subscribe via my RSS feed.