And because I wish we could all agree as a people in 2008 that cards are over as well – save for sympathy and thank you cards. Those are necessary.
Philosophy's new greeting card Sephora exclusives: Thank You, Congratulations and Just Because are the beauty equivalent – don't they say it so much better?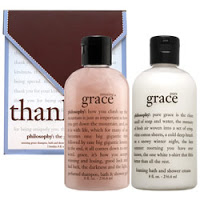 Thank You
A duo of best-selling Grace-scented bath products. $25.00 for the set; available at Sephora and Sephora.com.
Just Because
A trio of chocolate-scented shower gels inspired by three types of chocolate. Yum, yum, yum. $30.00 for the set; available at Sephora and Sephora.com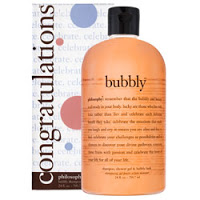 Congratulations
A champagne-inspired shampoo, shower gel, and bubble bath.
Philosophy created a bubbly inspired shampoo, bath, and shower gel in an enorm jewel-toned bottle. This one is my fave. I'm quite partial to bubbly and also? I just love to say "con-grat-ulations" the way Heidi Klum does on Project Runway. Just saying. $20.00, available at Sephora and Sephora.com