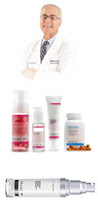 Enter to win a skin consultation with Dr. Murad, plus he'll send you all the products he recommends for your skin.
Here are the prizes:
GRAND PRIZE (two winners!)
Receive a one-on-one telephone consultation with top dermatologist Dr. Murad and a basket containing all the products comprising the day and night Murad product regimen he recommends.
FIRST PRIZE (five winners!)
Receive a collection of free Murad products comprising a Murad regimen for the winner's skin type.
SECOND PRIZE (ten winners!)
Receive one full-size Murad Intensive Wrinkle Reducer, worth $150.
Receive a $50 gift certificate to Sephora.com.
How it works:
Basically, you get a contest entry for every time you're the first person to review a product at TotalBeauty.com.
Click here for more info on the contest. Good luck, dolls! I adore Dr. Murad's products, specifically his Body Firming Cream.