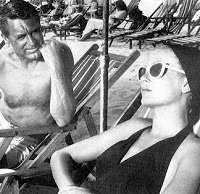 Happy May Day, gals!
The May issue of The Beauty Ideal is live! Go on over there and read about what SPF-infused, waterproof, bronzing, and perfect pedicure products my fellow Beauty Ideal writers can't wait to rock.
Click here to read my Letter from the Beauty Editor and here to read my story on SPF-Infused Beach Tote Fodder.
In other news, I am going to Montauk for Amber's bachelorette party weekend extravaganza at 0900 hours tomorrow morning, so I'm thinking there probably won't be any updates until Sunday or Monday. Miss you long time. I may or may not be able to watch LOST tonight but I'll def provide a LOST post by Monday. In case you were worried. It's a Jack-isode, my fave kind.
Also, don't miss Cintra Wilson's latest story on the Christian Louboutin boutique.
Have a phenom weekend, dolls!
P.S. That's Grace Kelly (pictured above) in To Catch a Thief on the beach in the French Riviera. Obv.