Get it? Beyond La Mer? Like "Beyond the Sea?" La mer = the sea in French? That was a vague play on words that probably amused only me. Anyway.

La Mer Eye Concentrate
My friend Chopin has lauded the ultrafab capabilities of La Mer's Eye Concentrate to me several times and now that I've tried it, I'm so with her. This new ultra-luxe cucumber-scented eye cream boasts three types of La Mer's hyper-healing Miracle Broth™ (the original, a concentrated form, and a time-release form) and magnetized hermatite. This eye cream is deadly serious about lessening the look of fine lines and wrinkles, lightening dark circles, deflating puffiness, while increasing circulation, moisturization, and toning. The bad news? This divine potion does not come cheap, gals. It's $160 for .5 oz. But as Ferris Bueller says, "It is so choice. If you have the means, I highly recommend picking one up." Here's how to use it:
Dab a small amount and gently sweep onto eye area with its cute little applicator. Follow with moisturizer.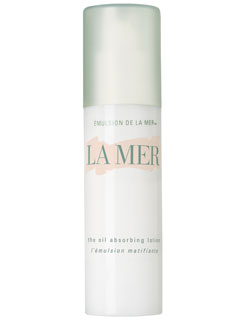 Speaking of moisturizer. J'aime beaucoup the oil-free liquid version of Crème de La Mer called The Oil Absorbing Lotion which offers the original concentration of the Miracle Broth™ in an oil-free formula to better navigate the needs of normal to oily skin. This is the stuff of dreams, dolls. All I ask is for a liquid moisturizer that still hydrates (lightly) that doesn't cause me to break out nor induce shine. I have an arsenal of SEVERAL moisturizers that do 2 of the 3 things I want. This one does all 3 and for that, the wildly expensive price of $185 for 1.7 oz is justified (for me.) I also use just a small amount at a time and I only use it in the morning. Its matte-finish formula acts as an all-day barricade, keeping any excess oil from emerging in your lifestyle. La crème de la crème, n'est pas?

Photo credit: cremedelamer.com