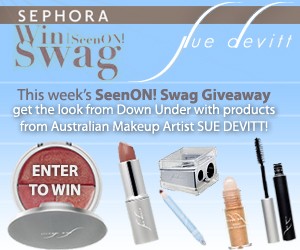 This week SeenON! is giving away over $300 worth of products from Sue Devitt. Sue Devitt's high-performance products are carefully whipped up with specialty ingredients from across the world, many of which help relax, restore, and revitalize the skin. Did you know beeswax enhances your lashes? Sue Devitt does, and has put beeswax into her products to condition and amplify lashes!
The giveaway is from Nov. 12 – 18. Registered SeenON.com members – login to the site and be automatically entered to win!
Here are the products you can win:
Lipstick
Microquatic Luminous Finishing Mist
Starbrights Lip And Cheek
Microquatic Fortifying Primer
Eye Intensifier Pencil
Water Resistant Mascara
E-Z Eyeshadow
Sharpener
Light Reflecting Bronzer
Microquatic Prime Target Intensive Eye Treatment
Lipgloss
Good luck!