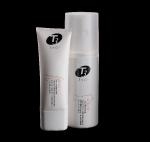 I have such a nonsexual crush on Orlando Pita. When I was right out of college and I worked in beauty PR, one of the more senior women I worked with (she was British), said to me, "When you open a magazine and the model's hair looks big and fantastic – it's ALWAYS the work of Orlando Pita." She was right. That man can make a simple ponytail look 12 kinds of elegant. I always do the "big and fantastic" hair test when I open a fashion magazine and nine times out of ten, Orlando is credited. I DREAM of having him do my own hair. I think he even warrants a seat at my imaginary dinner party where I can invite 10 guests, living or dead. Anyway. So naturally, when I learned Orlando was teaming with my favorite heat tools brand, T3, to create a line of products I was beyond ecstatic.
T3 360 Boost and T3 360 Plump, the two products, are designed to work better with heat tools (who doesn't love that?). Boost is a lightweight, non-greasy iron booster that encourages shinier, silkier, smooth hair. Plump is a weightless, non-sticky hair thickening agent that is designed to work with your ionic blow dryer for voluminous, "Orlando" hair. I used both in combination and found that they work best when Plump is spritzed on first, all over the hair from root to tip while hair is wet-to-damp. I dried my hair a bit (obv with my T3 Evolution dryer) so that it was 50% dry and THEN applied Boost to the ends. I found that my hair seemed healthier and not as temperamental as it usually is when I both blow dry it straight and also curl it with my T3 Twirl. And no, T3 isn't paying me to discuss their products and tools. They simply are THAT good. More deets on Boost and Plump:
T3 360's Heat-seeking Nanotechnology(TM) ensures that the:
— Carefully selected ingredients go to work on your hair when and where
needed most
— Exclusive Keratin-protein formulation penetrates deep into the hair's
cortex and is locked in when the cuticle closes (instead of coating the
hair, evaporating or burning off during styling like many traditional
serums or styling products)
— Look lasts and can be rejuvenated with a blast of heat from an ionic
styling tool for a truly amazing touch-up at the end of the day
— Products are invisible, weightless and hair is totally touchable and
manageable
Pita speaks about his inspiration for the line, "Working backstage [at fashion week], you've only got only one chance to get the hair perfect. I've used nearly every product out there – it's been really exciting to start using T3 360 in my every day work, especially at my salon, Orlo, where I've seen the benefits come to life with my clients. As people who can afford the absolute best, they can't believe how fabulous their hair looks … and have been desperate to know what I'm using! It's been amazing working with T3 and, together, we are really excited to share these products with other professional stylists and their clients – we know they will love the results."
T3 360 Boost ($38 for 1 oz) and Plump ($38 for 4 oz) are available at select salons nationwide and Sephora, Nordstrom, and Henri Bendel.

Photo courtesy of T3