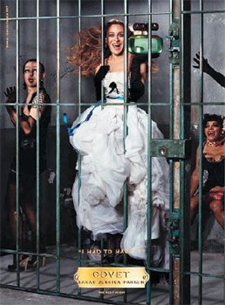 I've been asked to let you all know about a fabulous interactive game/contest to accompany the launch of Covet, the new fragrance by Sarah Jessica Parker (whom I adore).
Here's the gist: The game is a "who done it" puzzle, where Sarah Jessica Parker is framed for stealing a one-of-a-kind bottle of Covet. By joining in the search for the missing bottle and the effort to "free" SJP from prison, contest-goers will have a chance to win up to $10,000 in cash and prizes. Is this not SO MUCH LIKE the Murder Mystery Episode of Golden Girls?
The contest will go through October 15 and there will be weekly clues (and PRIZES) released as the case unfolds, with extra clues posted on the fragrance's Myspace page.
Good luck!
Photo courtesy of Shiny Media Blogs