Gals, I hate to play favorites with my cosmetics, but when it comes to phenom eyeshadows, I do believe NARS holds the monopoly. Their vibrant, quality shades positively jump out of their compacts (which always include a mirror – no matter how small).
NARS' Summer 2008 Collection entitled Exotica (very grrr, baby) is their best yet. It features a sultry palette of edgy neutrals. Their textures and pigments are to DIE. You'll channel a seductress whether you like or not. Just saying. My faves?
Galapagos Single Eyeshadow ($22)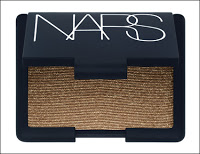 This is a bitter chocolate infused with gold that looks divine on a gal with a tan. I've been using it for my new version of smoky eyes created with bronze tones I like to call Amber Eyes, for obv reasons.
Unconditional Love Duo Cream Eyeshadow Matte ($32)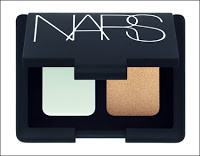 I want to marry this shadow duo, and to quote the smarmy Angela of American Beauty, have 10,000 of its babies. As someone who is too pale to really rock a light blue or green eye moment, I was most unexpectedly knocked off my socks by this creamy dreamy seafoam shadow. It imparts the most subtle, cool shade of greened-out blue. Instead of making me look corpse-like, it makes me look divine. It's very water nymph-let-loose-in-an-unsuspecting-world.
Here's a list of the Exotica lip shades:
* Supervixen Lip Gloss Sheer sparkling mauve $24
* Misbehave Lip Gloss Sheer cherry red with gold shimmer $24
* Mindgame Lipstick Sheer brandy $24
* Roman Holiday Velvet Matte Lip Pencil Delicate Pastel Pink $24
* Dolce Vita Velvet Matte Lip Pencil Dusty Rose $24