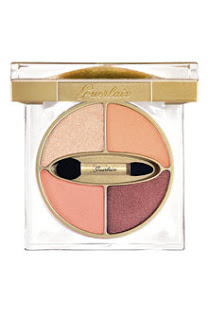 Guerlain 'Divinora' Radiant Eyeshadow Palette in Touche de Lilas is heaven. It comes in a gorgeous compact with an absolutely ENORM mirror, the likes of which I am using at the moment to apply some gloss and to take a mini-break at my desk in order to forget that a guy I share cube space with is currently singing "Hard to Say I'm Sorry". I mean, I like Chicago just as much as the next person, but seriously? He's SERIOUSLY singing that in a soprano, the likes of which I've never heard before, at WORK?
Back to the eyeshadow palette. The 4 colors include an all over light purple, a dark one to use as liner (dip the brush in water first so it has lasting power), one for the crease and one for the outer edge of your eye. Perf. Thanks for sending it along, Julia! I think EVERYONE looks good in purple eyeshadow, BTW.
In other news, I am unreasonably disturbed by Milo's heroic death on 24. This weekend I caught up on about six hours of missed Bauer Power Hours. It's getting pretty good. Was elated to see the return of Audrey Raines and the return of sulky Chloe. Can't wait to see what's next on the "non-stop season of 24".
P.S. the compact pictured above is not the "Touche de Lilas" one to which I refer, although I'm sure it's lovely.