*We're committed to transparency. Products mentioned were given to us to try by the brand. As always, all thoughts expressed on Rouge18 are our honest opinions.
I love dramatic eye looks but could never get on board with false lashes. Dealing with lash glue was a hassle, and I could never quite get the hang of how long to wait for the glue to dry before applying lashes. Eventually, I gave up and resigned myself to never wearing false lashes.
Then, two KISS products came on the market and changed everything for me: the KISS LASH GLUEliner and the KISS Magnetic Eyeliner & Magnetic Lashes. These products provide 2 alternatives to the traditional lash glue application.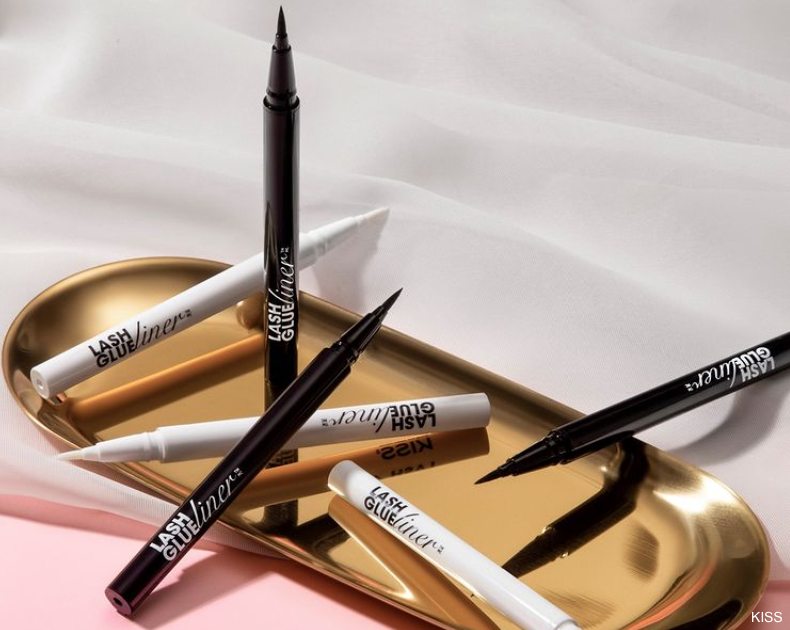 KISS LASH GLUEliner
KISS's LASH GLUEliner is a 2-in-1 eyeliner and lash glue. You simply apply the liner as you would any normal eyeliner, then apply false lashes on top. No wait time! The liner is immediately tacky, so you do not need to (and should not) wait before applying lashes. It is compatible with all strip lashes.
The liner comes in black and clear. I like both versions, though I tend to use the black if I want to hide the lash band better. The black liner dries matte like normal liquid liner, so you can use it to make a winged liner look if you like.
The liner holds up well throughout the day. I wear lashes for several hours with this liner with no problems. Usually, when I used traditional lash glue, I had some issues with the inner corner of my lashes popping up after a few hours. I haven't had that issue with this liner.
This product is a gamechanger. It makes applying false lashes unbelievably easy. I truly cannot rave about it enough!
KISS Magnetic Eyeliner & Magnetic Lash
If you do not want to use glue, the KISS Magnetic Eyeliner is a great option. To use, simply apply the magnetic liner as you would normal liquid eyeliner, then let it dry fully. Once the liner is dry, it is magnetized and all you need to do is apply magnetic lashes to the liner.
Traditional magnetic lashes involved sandwiching your real lashes between 2 magnetic strip lashes. To do this well, you needed great precision. The cool thing about using magnetic lashes with magnetic liner is that you don't have to worry about this. There is only one strip lash per eye and application is easy.
As the liner is magnetized, it only comes in black. This liner is compatible with all magnetic lashes.
Which Option is Best For You?
These products are great alternatives to traditional lash application. If you're deciding between the two, here are some things to consider.
Speed: GLUEliner is ready to be used as soon as you apply the liner, so it is a bit quicker than using magnetic liner which needs to dry before you can apply the lashes.
Application Tools: If you are used to applying lashes with metal tweezers, this will be fine for use with GLUEliner but difficult when using magnetic liner and lashes. Magnetic lashes will be attracted to metal tweezers if the magnets get too close to the tool.
Movability: If you place the magnetic lash a bit wonky on your liner, you can move it around to fix it. With GLUEliner, you would do best to place the lash and not move it around too much lest you disturb the adhesive.
Color: GLUEliner comes in black and clear, while magnetic liner is only available in black.
Removal: As GLUEliner is waterproof, it takes longer to remove than magnetic liner does. I find using a cotton swab soaked with waterproof eye makeup remover works best for removing GLUEliner quickly.
Compatibility with Lashes: GLUEliner is compatible with any strip lash. To use magnetic liner, you will need magnetic lashes. KISS offers a selection of 5 styles, and several other brands also make magnetic lashes.
Final Thoughts
These products have reignited my interest in false lashes. Now I find myself searching for the perfect fluffy, voluminous lashes in my spare time. Any product that gets me wanting to wear false lashes in quarantine is a win!