As regular readers of this ELEVEN-year blog know, my love of My So-Called Life knows no bounds. First of all, there has never been a more insightful, real, teen TV show. Angela's hair is the shiniest in America. The show's writers were so right on about so many things. My favorite quote: "There's something about Sunday night that really makes you want to kill yourself." Who didn't feel like that in high school, slash maybe in their thirties, as well? Am I too old to still harbor a crush on Jordan Catalano? Why wasn't there anyone like him at MY school? It's absolutely CRIMINAL that 19 episodes is all we got. It must be a conspiracy. I mean, how is it humanly possible in a world that the show didn't receive high enough ratings when every single person I know ON EARTH was watching it? But the best part of the show is its authentic '90s time capsule that is mid-'90s hair and makeup. It was all plaid flannel, Manic Panic, Doc Martens, chokers, and, of course, brown matte lipstick and utterly vampy lipsticks. Here, a roundup of my faves that are so beautiful, they'll ensure it'll "hurt to look at you."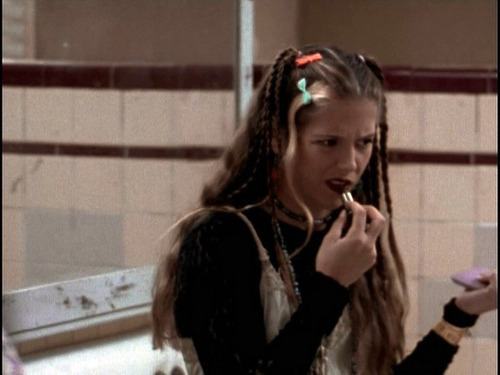 Urban Decay Vice Liquid Lipstick in 1993 ($18, Sephora)
Because when you channel Sharon Chersky's lip color proclivities, the most authentic version you can possibly achieve is this dead-on early '90s style cream brown. It's the ultimate when it comes to luxury lipsticks. 
Sephora Collection Cream Lip Stain ($14, Sephora)
The house brand at Sephora boasts a bevy of must-haves and this long-lasting matte stain is one to add to your list. The no-touchup-needed formula sets quickly and lasts all day, a feat that deserves a parade, frankly. Matte lipsticks can be drying, but this one wears comfortably.
NYX Soft Matte Lip Cream In Berlin ($6, Target)
A drugstore version of the liquid lip phenomenon, this one works best when dotted on with a fingertip and blended. I like to add a little gloss on top to make it modern. This one is one of the best lipsticks for brown skin. 
What are your favorites?