Lacy Redway for FEKKAI did the hair honors for the stunning Thandie Newton.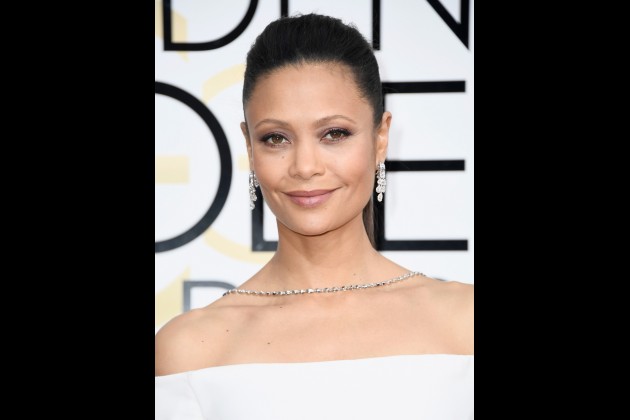 Says Lacy, "The look is a sleek, long ponytail with a little bit of height at the crown. We were inspired by her beautiful diamond necklace that looks like a choker in the front and then cascades down the back and halo's her ponytail. The hair is a beautiful complement to the off-the-shoulder dress and the gorgeous jewels." Here, the beauty breakdown. 
 Start with slightly damp hair after washing with Essential Shea Shampoo and Conditioner. Prep hair with by spraying Blowout Primer throughout to block frizz. Los Angeles weather means you always have to battle against the humidity! Then, apply Full Blown Volume Lightweight Styling Whip from the mid-shaft to ends for a smooth foundation and extra hold for heat styling. Next, separate and blow out the hair in three sections from top to bottom. For the top section, blow out with a round brush for extra volume at the crown. The sides are sleeker, so blow out these pieces with a flat Mason Pearson brush. Secure bottom half of hair slightly lower than the crown with a bungee elastic. Then, add top section to ponytail with pins. Secure ponytail. Spray Sheer Hold Hairspray onto the flat brush to tame flyaways on the sides and at the nape of the neck. Flat iron the ponytail for a super-straight effect. Touch up the ends of hair with Brilliant Glossing Styling Crème to keep them looking healthy and fresh.