Celebrity makeup artist Andréa Tiller gave Amy Schumer "radiant, glowing skin with a statement cat eye and soft defined lips" for last night's Met Gala. To complement this year's theme, Manus x Machina: Fashion in an Age of Technology, Tiller's goal was to create, "a graphic, edgy cat eye, and this event is the event to do it in. Anything out of the ordinary is ordinary here!"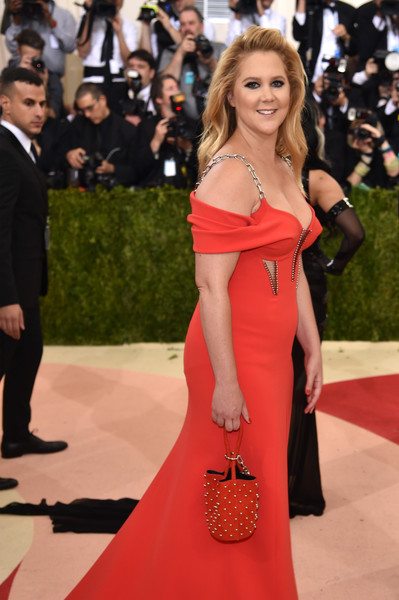 PREP:
· To give Amy soft, moisturized skin, Tiller applied Sisley's Express Flower Gel ($140) as a hydrating mask, then massaged RéVive Moisturizing Renewal Cream ($195) into Amy's skin.
· For smooth skin under the eyes, Tiller applied Laura Mercier Repair Eye Crème ($75).
FLAWLESS COMPLEXION:
· Tiller used Laura Mercier Foundation Primer – Radiance ($36) all over her face before makeup application to give Amy's skin an inner glow.
· For lit-from-within skin, Tiller opted for NEW Laura Mercier Candleglow Soft Luminous Foundation in Golden ($48). Tiller applied the foundation all over Amy's face using her fingers to even out her complexion. Tiller then lightly smoothed Laura Mercier Secret Concealer in Shade 1.5 ($25) under the eyes to create a radiant and bright look.
· To set the foundation and concealer, Tiller lightly brushed Laura Mercier Translucent Loose Setting Powder ($38) under the eyes of on the T-zone using a powder brush.
· Tiller used Laura Mercier Bronzing Pressed Powder in Dune Bronze ($34) with an angled cheek contour brush to contour and with a bronzer brush to bronze along Amy's cheekbones, temples, hair line and under the jaw for a natural, sun-kissed look.
· To give Amy's skin a flawless glow, Tiller lightly dusted NEW Laura Mercier Face Illuminator in Devotion ($44) on top of the cheekbones using a fan powder brush.
· For a youthful look, Tiller swirled Laura Mercier Second Skin Cheek Colour in Plum Radiance and Barely Pink ($26) on the apples of Amy's cheeks.
EYES:
· To prime the eyes, Tiller used Laura Mercier Eye Basics in Wheat ($27) using a crème eye colour brush.
· Tiller used the Laura Mercier Extreme Neutrals Eye Shadow Palette ($58) to frame Amy's eyes and give them a bold, dramatic look.
· To give Amy a smoky-eye, Tiller applied the Chocolate Espresso shadow from the palette at the outer corner of the eye, tapering it to the middle.
· Tiller lined Amy's waterline with Laura Mercier Kohl Eye Pencil in Brown Copper ($25) and applied Laura Mercier Tightline Cake Eyeliner in Black Ebony ($25) to her lash line to create a full lash effect.
· To add more drama, Tiller "created a feline flick" with Laura Mercier Kajal D'Orient Eye Liner in Noir Supreme ($28) and smoothed out the edges with an angles eye liner brush.
· Using a brow defining brush, Tiller applied Laura Mercier Brow Powder Duo in Deep Blonde ($28) to enhance Amy's natural brow shape. She then brushed Amy's brows up and set them with Laura Mercier Eye Brow Gel ($22) to ensure they would hold their shape throughout the night.
· To complete the eyes, Tiller applied two coats of black mascara on the upper lashes and one coat on the lower lashes. She then gave Amy individual false lashes on the outer corners of her eyes to "enhance the cat eye look."
LIPS:
· To line and fill Amy's lips, Tiller used Laura Mercier Lip Pencil in Naked ($24). She then applied Laura Mercier Lip Parfait Creamy Colourbalm in Amaretto Swirl ($25) all over the lips and finished the look with Laura Mercier Lip Glacé in Blush and Bare Pink ($25) mixed together