Mindy Kaling looked positively luminous at the Met Gala, no? Janice Kinjo for MAKE UP FOR EVER did the cosmetics honors. "I was inspired by the ephemeral iridescence in Mindy's dress. There were flecks of green, pink and light purple and I wanted to bring that out in her makeup with emerald eyes and dewy skin." Here, the beauty breakdown.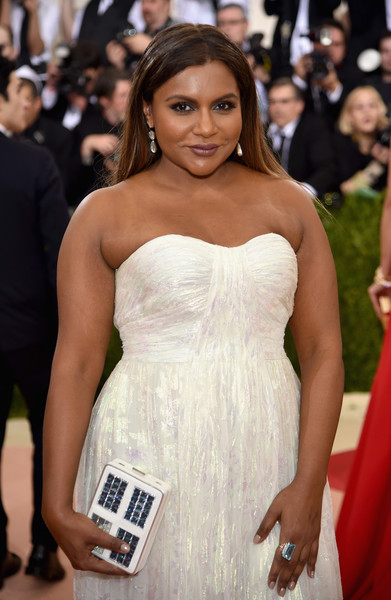 "For Mindy's eyes, I started by applying a deep emerald green shadow, MAKE UP FOR EVER's Artist Shadow in ME-302 Peacock, all over her eyelids. Then, I added the pink iridescence in Artist Shadow I-542 Pinky Clay to the inner corner of her eyes, which worked together to accentuate the iridescence in the dress perfectly. I used MAKE UP FOR EVER Pro Sculpting Brow in 40 Dark Brown to define her brows and added a pop of color with her under eyeliner using MAKE UP FOR EVER Aqua XL in I-32 Iridescent Lagoon Green. I added some individual lashes and gave her bold, voluminous lashes with the New MAKE UP FOE EVER Excessive Lash Mascara.
To create Mindy's glowy skin, I used MAKE UP FOR EVER Ultra HD Foundation Y445 Amber to conceal and highlight, and then added MAKE UP FOR EVER Ultra HD Foundation R510 Coffee to contour. I set her skin with the MAKE UP FOR EVER Pro Finish Powder in 168 Golden Caramel to highlight and 178 Neutral Brown to contour. To finish, I swept a bit of MAKE UP FOR EVER's Artist Shadow in ME-734 Tangerine to give her cheeks a touch of color.
For her body glow, I mixed a pump of MAKE UP FOR EVER Ultra HD Foundation R510 Coffee and body lotion and set it with MAKE UP FOR EVER Mist & Fix so that it didn't transfer onto her beautiful white dress. I wanted to keep her lips neutral and with the focus on the eyes, so I applied a touch of MAKE UP FOR EVER Ultra HD R510 Coffee to even out her lip tone, and then dabbed little bit of Rouge Artist Intense Lipstick in 30 Satin Light Rosewood to finish the look."