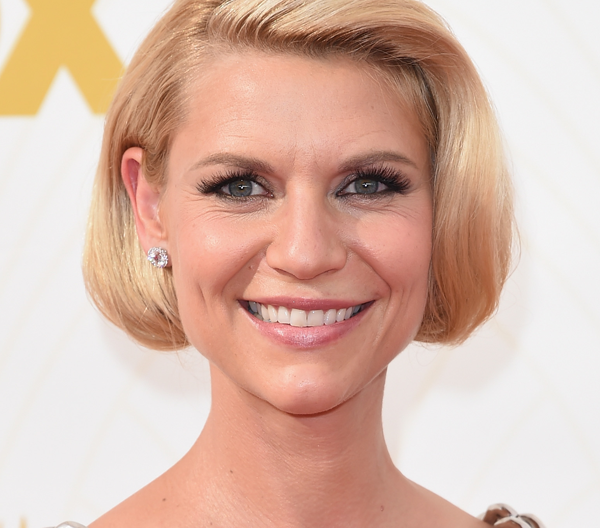 Makeup maestro Matin created Claire Danes' stunning makeup look for last night's Emmy Awards. "Claire was wearing this beautiful, striped, sequined dress in navy and maroon. For her makeup, we decided to go for a late-'60s/early-'70s nude palette, something you'd see at a Palm Springs party, with a focus on lashes and eyeliner," said Matin. Here, the beauty breakdown, in his words.
SKINCARE
I prepped Claire's skin with La Solution 10 de Chanel Sensitive Skin Cream. I really love the consistency of it, and I wanted her to look well hydrated but not shiny. La Solution 10 de Chanel just gives you creamy-looking, beautiful skin.
FACE
For Claire's complexion, I used CHANEL Perfection Lumière Velvet Smooth-Effect Makeup Broad Spectrum SPF 15 Sunscreen in 40 Beige, then added CHANEL Les Beiges Healthy Glow Sheer Colour Stick in N°22 to the apples of her cheeks and topped it with CHANEL Les Beiges Healthy Glow Sheer Colour SPF 15 in N°50. To highlight the cheeks, I swiped on CHANEL Limited Edition Highlighting Powder in Coups de Minuit (available in November 2015). It's beautiful, just like candlelight.
EYES
I started with CHANEL Stylo Yeux Long-Lasting Eyeliner in Érable, lining the bottom and top lashlines, and also adding it into the eye crease to enhance the retro effect. I used CHANEL Illusion D'Ombre Velvet Long Wear Luminous Matte Eyeshadow in Melody as a blending base color, which gave a gorgeous eye-opening effect. I dotted CHANEL Écriture de Chanel Eyeliner Pen in Noir between Claire's lashes and extended a slight wing at the corner. For more color, I used the CHANEL Limited Edition Eyeshadow Palette in Entrelacs. I applied the beige and medium-brown tones in the eye crease, and the darker brown shade along the lashline. The shades blend gorgeously.
LIPS
After a coat of lip balm, I applied CHANEL Rouge Allure Luminous Intense Lip Colour in Pensive to finish Claire's look.
What do you think of this look on Claire Danes?