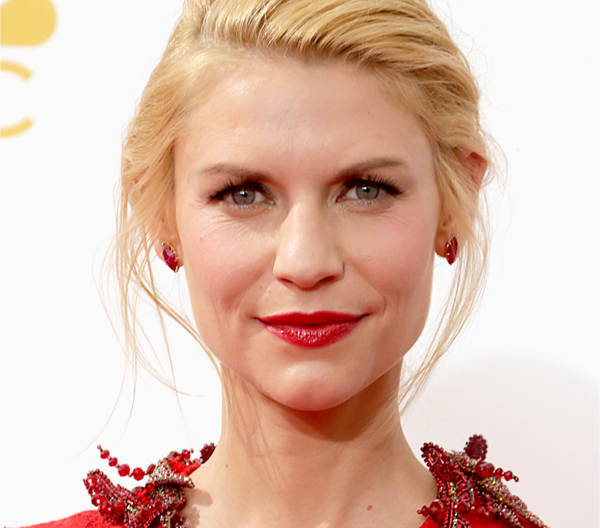 Matin created Claire Danes' stunning makeup look last night and as usual, she was among my favorites beautywise. Says Matin, "Claire chose to wear an amazing red dress with red dragonflies made of beads and lace. I love her in bright lips, and I didn't want to do the usual smoky eyes and pale lips "opposite of the dress color" cliché. I wanted her fresh and gorgeous, and nothing dresses up a face better than the perfect shade of red." Here's how to replicate this look.
FACE
"With CHANEL Foundation Brush #6, I applied CHANEL Perfection Lumière Velvet Smooth-Effect Makeup Broad Spectrum SPF 15 Sunscreen in 40 Beige to even out the skin. I created rosiness on the cheeks with Le Blush Crème de Chanel Cream Blush in Chamade, then applied CHANEL Joues Contraste Powder Blush in Plum Attraction just to the apples of the cheeks.
EYES
I prepared the lid with CHANEL Professional Eye Shadow Base, which I love. Claire's eyeshadow was mostly the black shade from CHANEL Quadra Eyeshadow in Tissé Riviera, with a touch of the quad's silver shade and a gold shadow, CHANEL Ombre Essentielle Soft Touch Eyeshadow in Admiration. To create definition, I applied small dots of CHANEL Automatic Liquid Eyeliner in Noir between the lashes, so that when I added a coat of CHANEL Inimitable Waterproof Mascara in Noir, the lashes looked incredibly full.
LIPS
Claire's dress was a really beautiful bright red, but the details were a deeper maroon. I wanted to find a meeting point between the two. After lining lips with CHANEL Precision Lip Definer in Rouge Profond, I applied CHANEL Rouge Allure Velvet Luminous Matte Lip Colour in La Flamboyante (available October 2014), followed by CHANEL Rouge Allure Gloss Colour and Shine Lipgloss in Pirate (available November 2014)."
What do you think of Claire Danes' Emmys makeup look? Yay or nay? I want to hear from you in the comments!