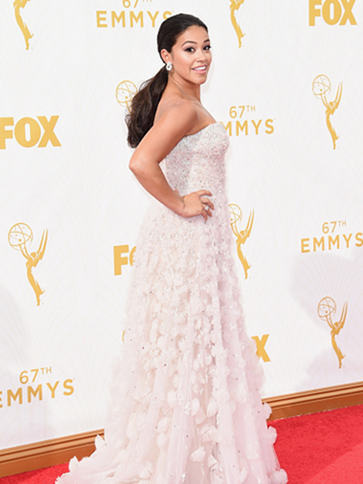 What do you do in 105-degree LA weather for the Emmys red carpet? Paul Norton created "Jane the Virgin" actress Gina Rodriguez's gorgeous, full-bodied ponytail hairstyle.  "I wanted to go for a very polished look on the top but yet very dramatic throughout the ponytail," he says. Here, the beauty breakdown.
Step 1:
I began Gina's look on damp hair that had been freshly washed with Joico *Color Infuse Brown Shampoo and Conditioner. 
Step 2:
I then blew out her hair using Joico Heat Set until fully dry, using my Mason Pearson brush only at the root area because I wanted to have a wilder effect through the ends.
Step 3:
Once the hair was fully dry I applied Joico K-PAK Protect and Shine Serum at the root area and used my Mason Pearson brush to gather the hair into a low pony tail and confined it with an elastic band.
Step 4:
I wanted to be sure that the elastic band was unseen so I wrapped it with a strand of hair to conceal and cover it. Next, I used hot rollers to sit in the hair for 15 minutes as the cooled. Once they were cooled I began to remove them while gently combing the hair through my finger to work out the curls.
Step 5:
I then used Joico Hair Shake throughout the pony tail working in sections from the bottom working my way up to create volume. Throughout each section I back combed with my fingers to create more separation and texture.
Step 6:
I then had Gina tilt her head back allowing the pony tail to hang freely while I used Joico flip Turn hair spray to ensure the volume and separation would last. To finish I did a final spray of flip turn to make sure there were no fly aways in the confined area and great hold throughout the hair.