When it comes to curling mascaras, I'm suspicious like I'm suspicious towards lash primers. I've never really found a mascara that provides noticeable curl without a lash curler.  However, Burberry Curve Lash Mascara Volumising Lash Curl ($29) might be changing my mind.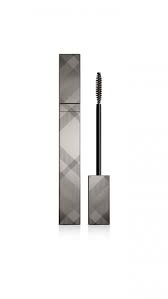 With a small, thin football brush, the light formula coats each lash from root to tip.  With one coat my lashes are definitely coaxed back into a curl while gaining some length.  The formula dries into a protective film that wards off smudges and budges but because of this, it can dry quickly.  Make sure to apply your second coat directly after your first.  While there's not a ton of volume with the mazzie, my lashes are super long and dare-I-say-it, super curled!
Because of the long-wearing formula, I didn't feel the need to apply an afternoon touch-up coat (besides the fact my lashes were too brittle to do so.) While a little dry throughout the day, the product softened with soap and water and removed easily.  This is a great mascara for short and straight lashes, just don't expect a lot va-va-volume.
—Ashleigh Ciucci
Follow Ashleigh on Instagram.