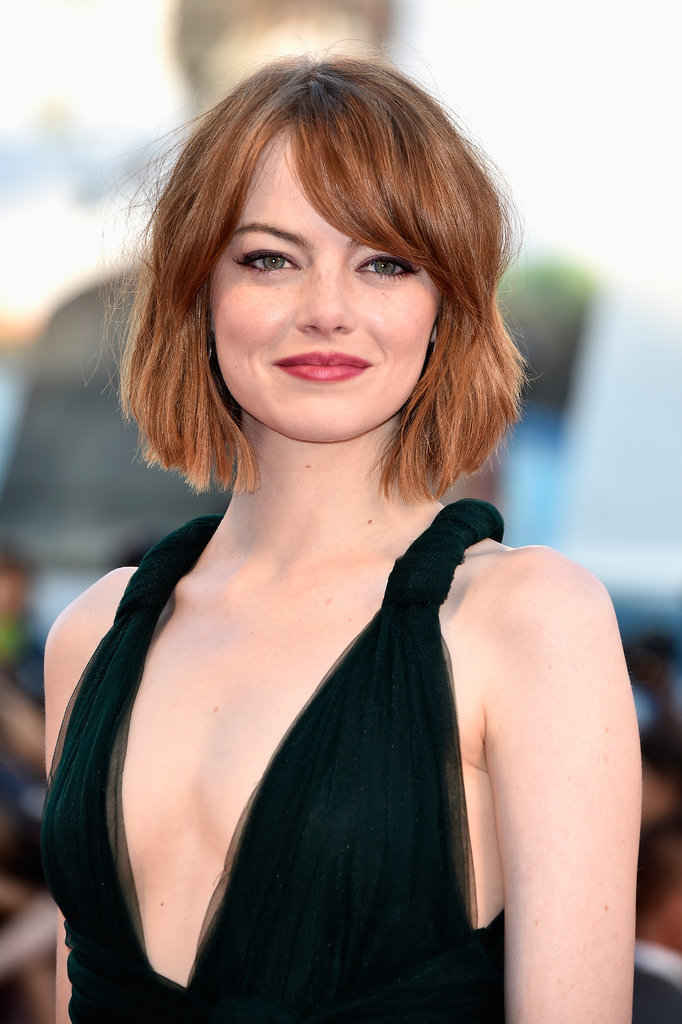 Are we loving Emma Stone's flawless new bob OR ARE WE LOVING EMMA STONE'S FLAWLESS NEW BOB? The starlet showed up at the Venice Film Festival's premiere of "Birdman" rocking this new cut and I think it looks divine on her. Her bone structure is complimented, the color looks epic (but that's nothing new) and it's all around gorgeous. Karlie Kloss, Taylor Swift and now Emma Stone? I'd posit the new hair motto of 2014 is What About Bobs?
Also, related: Here's her makeup look breakdown, courtesy of Rachel Goodwin.
FACE:
Skin was prepped with REVLON Nearly Naked Makeup in Vanilla (SRP: $9.99) for a natural look that allowed Emma's freckles to come through. To create soft pinks cheeks, Goodwin dabbed REVLON Cream Blush in Flushed (SRP: $$12.99) to the apples of Emma's cheeks, followed by REVLON PhotoReady Skinlights Face Illuminator in Bare Light (SRP: $12.99) to highlight cheekbones.
EYES:
For the rich plum eye, REVLON ColorStay ShadowLinks in Petal (SRP: $2.99) was applied across the lid to create a light base followed by REVLON ColorStay ShadowLinks in Eggplant (SRP: $2.99) to the crease for added definition. To finish, lashes were curled and brushed with 2 coats of REVLON Bold Lacquer Length & Volume Mascara in Black (SRP: $7.99), and brows were defined with REVLON Brow Fantasy in Dark Blond (SRP: $7.50).
LIPS:
Lips were painted with REVLON ColorBurst Laquer Balm in Whimsical (SRP: $8.99) and blotted with a tissue to diminish extra shine for a soft magenta stain effect.
What do you think of Emma Stone's new bob hairstyle?