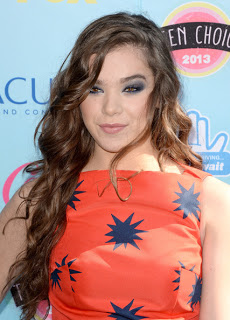 Hailee Steinfeld
 looked STUNNING in a House of Holland red and blue starred dress and a smokey eye paired with a tumbling mane of curls at the
Teen Choice Awards 2013
.
Stephen Sollitto
did the makeup honors. Here, the details on the look. 
"The blue in the dress inspired me. I wanted to do a smokey eye all day and when I saw the dress I thought a bold eye would be perfect. But I would use royal and navy shadow so it was still smoked but not as hard as a black eye would be.
I started with the eyes because I knew with a dark shadow there was no sense in starting foundation if I'd only have to clean up all the fallout after I was done. First as a blank canvas with a kick I used Laura Mercier Twinkling Star eye shadow on the whole lid. This has the most beautiful twinkle of reflection. The Champagne-y shade is an ideal neutral.
To start the smoke I grabbed a MAC eye pencil in Navy I lined her eyes. I lined them heavy going back and forth at upper and lower lash line and on the insides as well. Then with MAC's navy loose pigment powder called Later I took a medium eye brush and dotted the whole lid up into the crease and a little above and the underneath lash line. I like stippling better than brushing back and forth because there's no demarkation line left over yet you can still form the shape eye you want. Then for some more sparkle I dotted RAMY OMG! Over Mascara Glitter & Liner on the inner corners of her eyes by her tear ducts. On the red carpet this always picks up and makes the eyes look bright. Then two coats of Mascara and perhaps a lash or two and I was done.
Now I say done but there is a lot of blending and cleaning and really balancing the shape so that both eyes are equal. This is actually easier for someone to do on them selves as they can stare in the mirror and get a good look. A Q-tip is a great blender of shadow.
Then I added foundation making sure her under-eye was completely clean before. Over this I used Peter Thomas Roth Anti-Shine Mattifying Gel. I love this gel so I don't have to use too much powder even though I do swipe a light dusting of powder first.
All else was quite simple including the MAC Prism Blush. It is a staple that I will always have in my kit. Not too pink, pink enough etc. You get the picture.
For Hailee's lips again since she's still so young and we just did a big fat smokey eye on her I didn't want to then do a big lip as well. I turned to Pati Dubroff's new Lip Balm Crayons in Rose Petal. This has gold flecks in it but is such a wearable color so that her lips show up but we're not making another statement on her face.
With her hair tousled and in her beautiful dress Hailee looked like the ideal teen she is."
What do you think of Hailee Steinfeld's look at the Teen Choice Awards 2013?

Like this post? Don't miss another one! Subscribe via my RSS feed.