Disclosure: This post was sponsored by Avon, but all opinions herein are my own.
Fictionary is a column showcasing beauty-related words that don't exist, but should.
How's your skin? Not even, in the parlance of famous philosopher Cher Horowitz? Allow me to quote Murray, also of Clueless fame, when I say that after a few weeks of slathering this stuff on your grill in the morning that your skin will be: yes, even. So even, in fact, you'll reap the benefits of an Instagram filter IRL. Call it a Skinstagram.
Why not cloak yourself in reality in a lovely Valencia, as Andrea Lavinthal points out? Avon has two new additions to their Anew line that will help you achieve your goal of Skinstagram skin.
The first is
Avon Anew Absolute Even Multi-Tone Skin Corrector
($39). When used regularly, this stuff does the equivalent of your favorite filter by reducing the look of seven types of discoloration that make us look older, like post-acne marks, brown patches, uneven skin tone, sallowness and more. I have picked every single zit I've ever had (I know, send me to beauty writer prison) so I'm constantly dealing with the ghosts of pimples pasts in the form of dark, hideous marks. I love that consistent use of
Anew
Clinical
Absolute Even has lightened them considerably in just a couple weeks. It provides brightening and evens my skin tone and is excellent for no-makeup makeup days.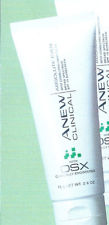 In this age of women in their 40s being able to look as if they're in their 20s, we're no doubt moving into Grace Kelly levels of hand skin preservation. While you're waiting for white driving gloves to come back in style (and you'll be waiting a long time, cookie), slather up your mitts with Avon Anew Clinical Absolute Even Hand Cream. What's good for the goose is good for the HANDER. It's got SPF 15 to protect your hands from aging while imparting the same brightening and skin-evening benefits of its facial counterpart. Keep it in your purse to ensure you're protecting your hands from photo damage on a regular. Yes, EVEN! 
Avon Anew Clinical Absolute Even Multi-Tone Skin Corrector retails for $40, but it's currently on sale for $35; the Absolute Even Hand Cream retails for $25 at
avon.com
.
Disclosure: This post was sponsored by Avon, but all opinions herein are my own. 


Like this post? Don't miss another one! Subscribe via my RSS feed.