Fictionary is a column showcasing beauty-related words that don't exist, but should.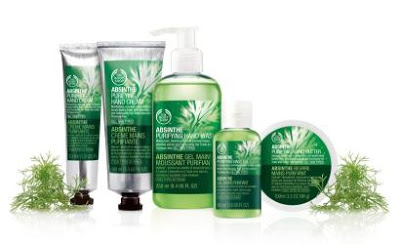 Everyone knows that absinthe is some serious (albeit awesome) shiz. I've never tried it, obviously, as I'm prissy to the point of ridiculosity. You're talking to a person who's never tried cocaine because Regina Morrow in Sweet Valley High DIED the first time she did.  
A shrub-like perennial, wormwood is a key ingredient in absinthe, the emerald-colored alcoholic drink (so on-trend!), helping to give the beverage its distinctive bitter taste. I would never drink of a drop of it IRL, but in my beauty products? Fabsinthe! The Body Shop feels my skittishness about drinking absinthe and instead infused it into their new Absinthe Purifying Hand Care range with absinthe extract. Here, the details of the collection.

Absinthe Purifying Hand Gel ($2)
Hands are perfectly purified without running water with this handy hand gel that conceals odors. Simply apply and allow to dry.
Absinthe Purifying Hand Cream ($10 / 30ML – $20 / 100ML) – Your new handbag essential. Apply whenever hands need a shot of moisture or to conceal bad odors.
Absinthe Purifying Hand Butter ($20) – Give hands a blissful treat with this intensely moisturizing hand butter with a luxurious texture that simply melts into skin.


Absinthe Purifying Hand Wash ($10) – Enjoy clean, moisturised and refreshed hands with our new Purifying Hand Wash. 
All Absinthe items from The Body Shop are available 
here
. Use them and skip the effect the ingredient had on Scotty and Cooper. If only Scotty DID know. 
Are dry hands affecting you this winter? 
Like this post? Don't miss another one!
Subscribe
via my RSS feed.