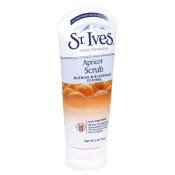 I was very popular in my college dorm freshman year once I introduced my dormmates to the virtues of St. Ides (LAWD that stuff was gross!) and, funnily enough, St. Ives. Specifically, St. Ives Apricot Scrub ($4), the Blemish & Blackhead Control one. It's ridiculously economical at $4, one tube lasts months (use twice a week), and it leaves skin bright and glowing while infusing problem skin with 2% salicylic acid. Seriously. It was one of my gateway products. You know, one of the products that kicked off your lifelong addiction to beauty?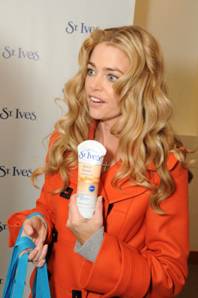 Fun tip: I've found it's far more effective when employed sans water. I've long been a dry facial scrubber, but recently learned that my pal
Dina
applies the same tactic with body scrub, which produced PHENOM results when I took her advice last night.
Stars feel the same way about St. Ives Apricot Scrub! St. Ives recently set up the St. Ives Sensory Spa & Gallery on Main Street in Park City during the
Sundance Film Festival
and celebrities, including
Elizabeth Reiser
,
Denise Richards
(pictured above left) and
Aubrey O'Day
(pictured left)
,
all mentioned they are fans of the product. St. Ives Consulting Aesthetician, Jillian Wright, performed facials at the spa with various St. Ives products.
Off topic, but speaking of Aubrey, doesn't she look MUCH better at Sundance than she did at
the Vitaminwater party
this summer?