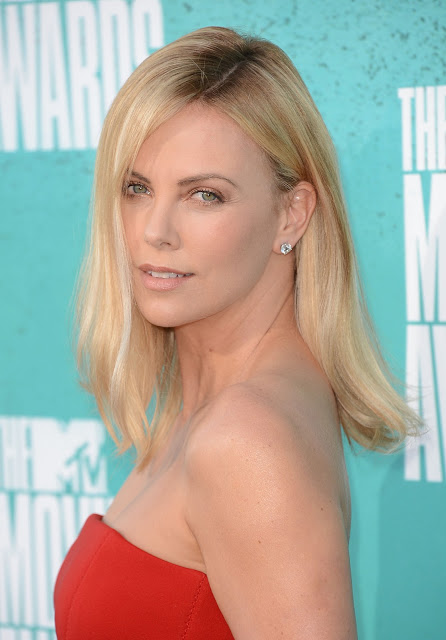 Credit: Getty
Charlize Theron, the beautiful star of "Snow White and the Huntsman" and "Prometheus," looked INCRED on the red carpet at the MTV Movie Awards last night as she wore a vibrant crimson Lanvin dress, Jimmy Choo sandals, and jewelry from Cartier. Her hairstyle, created by master stylist, Enzo Angileri, was luminous, yet sexy. Per Enzo, here's how to get the look.

"At times, a simple look is so powerful," said Enzo, "but when you go simple you need to have hair that looks gorgeous – luxurious, silky, and shiny. When you do an updo or more complicated look you can often get away with hiding the quality of the hair. In a looser style like this one, the texture, shine and health of each strand becomes all important since you see everything in the lights. To make sure her hair looked lustrous and moved naturally, I used Moroccanoil Treatment Light, Moroccanoil Hydrating Styling Cream, and Moroccanoil Luminous Hairspray Strong."
How to create the look:
"Moroccanoil Light was the essential foundation, since Charlize's hair needed to have its own natural flow and move freely.
I first applied Moroccanoil Light, and added a small amount of Moroccanoil Hydrating Styling Cream (since we started with Charlize's naturally waved hair). I used this cocktail to instantly enhance the quality of Charlize's hair and to give it an incredible luster.
Next I blow dried the hair smooth with two round brushes, a medium one close to the roots for more grip and a larger one on the ends.
When hair was almost dry, using the medium sized brush, I sprayed the sections close to the head with Moroccanoil Luminous Hairspray Strong to lift them a bit and to hold the style from underneath to make it look even more natural."
What did you think of Charlize's flowing locks at the 2012 MTV Movie Awards?
Like this post? Don't miss another one!
Subscribe
via my RSS feed.