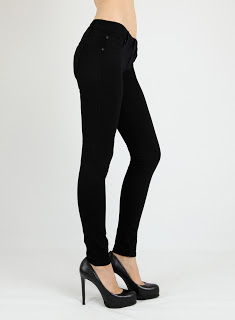 When my friend Tamar gave me a pair of James Jeans she received for her glamazing fashion blog that didn't fit her well, I was ELATED. Then she told me they have padding on the back pockets. My face fell. For me, this was like bringing your own ice cream cone to Ben and Jerry's. Baby's got back already. Why are we adding to baby's back? And then I tried them. Read on… 

They're epic. They make my derriere look epic, even MORE so, thanks to the slight padding. It really serves more to lift rather than to add volume. And the FIT! DIVINE. They stretch perfectly, were immediately the appropriate length for my 5'5″ bod and the matte black hue is a FOR REALZ black, so rare to find in a black jean. I find many are like Seth Green's character Special K in Can't Hardly Wait. They THINK they're black, but really, not so much. You'll think you died and went to heaven because these jeans are an ANGEL sitting right in front of you. I want to stock up in a blue shade, as well.
James Jeans Couture Skinny 1210 Matte Black Jeans retail for $198 at jamesjeans.us.
Tell me: What are your favorite jeans of late?
Like this post? Don't miss another one!
Subscribe
via my RSS feed.