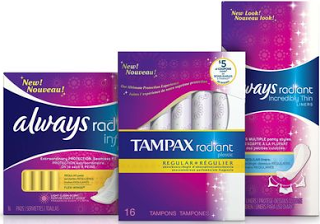 So yes, this isn't usual BBJ territory, but let's all agree that feminine care is something we all have to deal with, and Tampax and Always have some new launches you'll want to try out.
The former's come out with their new Radiant line, which is perfect for those times when you have to take care of your situation whilst some jerk in the bathroom who's Primpin' All Over The World. Why? Because it's equipped with a resealable wrapper that opens with sticker adhesive (called CleanSeal) that's soundless when you use it. Genius. Because it's not encased in your garden variety paper wrapper (it's more of a fabric, so it won't open up and fill your purse with Houdini 'pons–loathe those!), it won't alert your fellow restroom patrons to your cycle. Because it's no one's BIZ.  Read on for more info and how to enter the giveaway.

Tampax' sister brand Always has two new pads out, if you're into that sort of thing. First, there's a new pantyliner called Incredibly Thin Panty Liners, which are flexible and super-thin. But most impressive is the new Radiant Infinity Pads, which were demo'd to us (using the pad commercial blue fluid, of course). They're made with Infinicel, a sci-fi-ish material which is incredibly absorbant–60% more than before. The super-thin material pulls fluid down for maximum absorbency with zero bulk. The technology is so neat (I'm actually compelled to use the word neat), it's what I envision Star Trek: The Next Generation's Deanna Troi uses on the Starship Enterprise to address her monthly situation.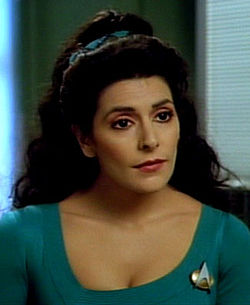 Tampax Radiant and Always Radiant are available at drugstores nationwide, but I'm offering a giveaway of one of each. There's just one way to enter this one, friends. You must "Like" the Beauty Blogging Junkie Facebook page and write "I'm radiant" on the wall. Once I have 4,200 like, I'll choose a random winner.
That's it! Good luck, dolls.
Like this post? Don't miss another one!
Subscribe
via my RSS feed.