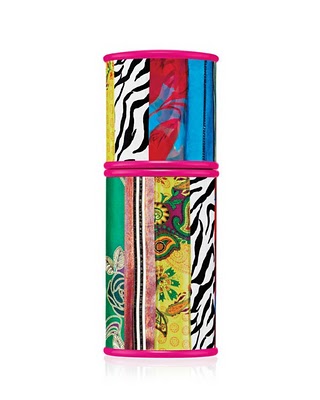 Sometimes in this biz, you have an experience that makes the late nights, the 2-drink maximum (you can't ever be hungover when you work 18 hours a day), and the manic pace which would intimidate even the most busiest professional on earth yawn in exhaustion 100% worth it. I was coming off of 15 straight days of work, Fashion Week, the beginnings of a cold, but hell if I wasn't tickled pink to meet Miss Sarah Jessica Parker herself to discuss her new fragrance, SJP NYC. We also had a chance to chat with the fabulous Mr. Joe Zee, Creative Director of ELLE. He was such a delight. He told me his favorite fall trend is "a return to luxurious materials like fur and croc." He also shared that Erin Kaplan and Olivia Palermo of The City do their own hair and makeup.
Emily from
ELLE.com
, Andrea Lavinthal from
realbeauty.com
, SJP, moi and Laura from
styleist.com
I took my seat at the event across from the fabulous Andrea Lavinthal from Real Beauty and the two of us proceeded to nervously wring our hands and anticipate the greatest style icon New York has ever known. You know, not to be dramatic. We all identify. As I've said before, living in NYC, you meet a bevy of blondes (and even brunettes!) who think they're Carrie Bradshaw. Anyone who's held a pen, has ever been single, has or does not have curly hair claims to be "JUST like her." After seven years of living here, the comparison becomes more cliche than… a bunny eating a carrot. And yet, even though it's the most hackneyed thing in the world… I was losing my mind over being in the same room as the woman who plays everyone's favorite character. In anything. Ever.
Though I was surprised by my irrational indecision when it came to picking out an outfit for this shindig, I wasn't surprised to find that Sarah Jessica is fairylike in both appearance and personality. Her gracious wit and curiosity and vocabulary would impress many a scholar.
The fragrance is inspired, of course, by Carrie Bradshaw. It's a fruity floral with juicy top notes of strawberry and mandarin, a floral base and a drydown of rum accord. Definitely a sweet scent. In the words of SJP, it's "a party in a bottle!" My favorite part? The very Patricia Field bottle canister doubles as container for Q-tips in your bathroom or to use as a case for gum and lipstick in your purse. Love.
Thanks to Felicia Sullivan for sharing this video she took of SJP and Joe Zee chatting about the new fragrance.
SJP NYC retails for $35 at Macy's.
Like this post? Don't miss another one!
Subscribe
via my RSS feed.

Disclosure: A sample of the fragrance was provided for editorial consideration at the event