Obviously, when I play Clue (it happens more often than you'd think, dolls), I'm always Miss Scarlett, because she's the most glamorous. Obviously. But sometimes, I'm playing with Carol, who ALSO thinks she should be Miss Scarlett, in which case I default to Mrs. Peacock. And I'm not cranky about it because LOOK at her.  Read on… 

She's pretty happening.
In the Clue movie, she's afraid of silence. A gal after my own heart! Know what I'm also afraid of? FRIZZ. Enter the GHD Blue Peacock Collection (it also comes in purple and green, but clearly the blue is the most Mrs. Peacock of the trio).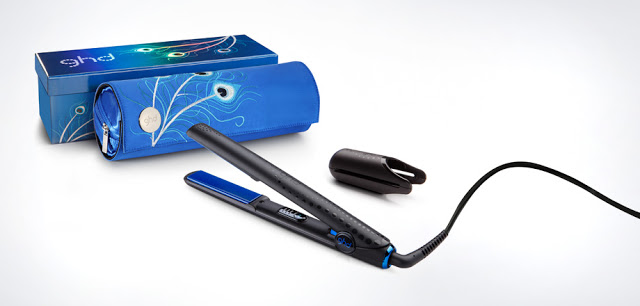 The set includes the legendary GHD straightening iron which will sleekify strands even in a tsnuami, in addition to a gorge blue roll bag and heat mat for easy styling on the go. So you can be the one who killed the frizz. In the salon. With the iron.
The GHD Blue Peacock Flat Iron retails for $225 at ghdhair.com/us.
Like this post? Don't miss another one!
Subscribe
via my RSS feed.