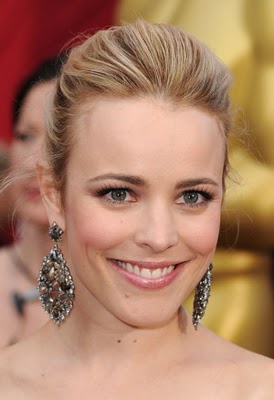 Rachel McAdams looked stunning last night at the 2010 Oscars. This just in, the beauty breakdown to achieve Rachel McAdams' Academy Awards hair and makeup looks.
Makeup
Rachel's sister, makeup artist Kayleen McAdams created Rachel's makeup concept. Kayleen's inspiration: "We chose our colour palette based on the water colour look of Rachel'sdress. There was a wash of cool tones in the dress, blue, green, purple, pink so we wanted the eye, cheek and lips to all have this same watercolour sheerness to it."
How to get Rachel McAdams' makeup look: For Rachel's eyes, Kayleen used a combination of grey and pink shades. On the lid, she used CHANEL Fluid Iridescent Eyeshadow in Fountain. She kept the grey on the outer corners of the lid and underneath the eye. She used the rose gold shade in the CHANEL Quadra Eyeshadow in Spices up to the brown bone and along the lid. To finish it off, Kayleen used CHANEL Soft Touch Eye Shadow in Slate in the inner corners of the eye, and followed up with two coats of CHANEL Inimitable Mascara in Noir.
She kept the lips very simple with CHANEL Rouge Coco Lip Colour in Rose Comete, a beautiful light pink shade, and a bit of CHANEL Glossimer in Futile to accentuate the lips but keep the focus on the eyes.
Hair
Sebastian Stylist Design Team Member Thomas Dunkin styled Rachel's tresses to complement her pastel watercolor-print strapless couture gown. The voluminous texture of Rachel's bun evoked a spring-time look that is effortlessly chic and breathtakingly beautiful.
How to get Rachel McAdams' Oscars 2010 hairstyle:
Start by applying Sebastian Professional Liquid Gloss to slightly damp hair.
Blow dry hair straight with a large round bristle brush to give hair a smooth, polished base and voluminous texture from which to start styling.
Brush hair back and put in a ponytail just above the occipital bone. Secure with bobby pins.
Backcomb the ponytail and start to smooth the hair under using Sebastian Professional Re-
Shaper hairspray, securing with bobby pins. Do this until all of the hair is tucked under and secured.
Apply Sebastian Professional Craft Clay to the top and sides of the head for a textured effect rather than a perfectly-groomed finish.
Finish the look with Sebastian Professional Re-Shaper hairspray and gently massage the whole look to give it a disheveled, modern feel.

What did you think of Rachel's red carpet look?
Like this post? Don't miss another one!
Subscribe
via my RSS feed.