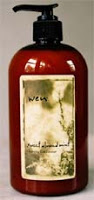 Free of sulfates and parabens, Wen Sweet Almond Mint Cleansing Conditioner ($28) is created with herbs and natural ingredients to not only cleanse your scalp and hair, but also to moisturize, strengthen and add shine. It eliminates the harsh detergents of a shampoo without sacrificing texture and volume. I'd recommend it more for curly/coarse/frizzy haired gals, as they will benefit more from the no-lather formula, although I found it worked really well on my normal-to-dry hair as well.
While it's difficult psychologically for me to get over the lack of froth in my lifestyle, it did do the job on my third-day/ready-for-a-shampoo locks. About 15 pumps of this minty/nutty-scented creme applied to wet hair left on for five minutes yielded a smooth, shiny, hydrated blow-out with no need for an additional conditioner.
I made sure to apply a bit more of my usual thickening/volume spray of the moment, Blow Up Mist ($18) to ensure my roots still had "lift" without the requisite squeaky clean roots achieved only with a shampoo and it worked PERFECTLY.