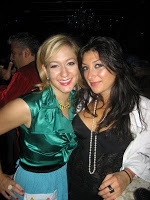 Happy Halloween, dolls! Check my costume! It's phenom, is it not? You can't really get the full effect from this pic, I was having a not untypical, but highly irritating unphotogenic night. Lauren and I (she's pictured on the right dressed as the Walk of Shame) have caucused and we have decided that it's my camera's fault. We're both far more fly in pictures from others' cameras. I'll be reenacting this entire look tonight as well, so I'm hoping for a better Kodak moment.
Anywho, my Betty Draper costume was quite a hit. I rocked a vintage yellow necklace, a green ruffly shirt that screamed Betty to me, a black mini (which Betty would never wear, but alas, Halloween IS the slut olympics and I have to contend), a vintage apron which totes came in handy as I am a mage drink spiller, some Cole Haan beige patent pumps, and some pearls. Here's a run-down of all the products I used:

Make Up For Ever HD Invisible Cover Foundation ($40)
Laura Mercier Full Faux Lashes ($18)
Benefit Erase Paste ($26)
Givenchy Parad'Eyes in Dream in Black ($27)

Urban Decay Eye Shadow in Midnight Cowboy ($16 for single shadow)
Fiberwig Mascara ($22)
Urban Decay Red Lipstick in Revolution ($22)
BT dubs, I didn't get a haircut; I just Bettified my 'do. How did I do it? By securing a very low ponytail and then tucking the elastic and the end of the ponytail underneath my hair and anchored it with bobby pins. Then, I curled the front layers with a large curling iron. UPDATE: Bella explains it WAY better in this post I just read.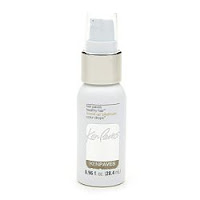 Also, I used a new unique product I'm lurving by Jessica Simpson crony Ken Paves called Boost Up Color Drops in Platinum ($40). Just a few pumps of this purple color-depositing liquid added to a dollop of conditioner (and also to your styling products) will brighten up your hue in minutes. I also love it in the honey shade, which is a rich gold. This stuff will even extend the life of your color during the ever-increasing (thanks, crap economy) damn-I'd-better-get-to-the-colorist weeks.
What are you dressing as for All Hallow's Eve? Tell me in the comments!