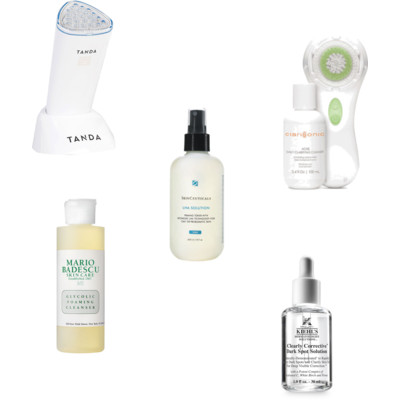 You guys, it's been TWO YEARS since I've instituted a
Finest Hour Week
, my favorite week of the year. That's a
shanda
for the NEIGHBORS, in the words of my Yiddish-profish 92 year-old grandmother. I LOVE a prom! And why haven't I been guiding you on what products you need to stockpile for YOUR prom? I can't ANSWER this. I guess I've been busy, which you and I both know is no excuse for anything. So for 2012, Finest Hour Week is BACK. And it's starting on a Thursday, because when you have your own blog, you can start the week any old day you WISH. If you remember, Finest Hour Week is named in honor of ridiculous song "Finest Hour," which played as
Teen Witch
's Louise (
Robyn Lively
–sis of
Blake
) dramatically threw her magical amulet which she THOUGHT was the only reason hunky Brad liked her, but really—it was her enchanting SELF and not her supernaturally enchanting powers. Observe (and read on)… 
Kiehl's Clearly Corrective Dark Spot Treatment
When it seems like a pimple you had at the start of the Gossip Girl season is STILL aggressively establishing residency on your face like a party guest that won't go home, you need to bring out the big guns. Kiehl's = the big guns, in this scenario. This stuff contains Active C, a vitamin C derivative. It's also silicon-free, which is HUGE for me, as there's no easier way to clog my pores than stuff them with silicon. I've been exclusively rocking s-free cosmetics in 2012 and if you tend to break out, I suggest you do the same. This stuff's also not made with optical diffusers or pearls to mask discolorations or dark spots. It just does what it's supposed to, which is why it's a clear liquid in a clear bottle.


Mario Badescu Glycolic Foaming Cleanser
If your skin's dull and congested, a twice-weekly application of this wash will deep-cleanse pores and even out skin tone quickly. I find a little Gly is perfect for really getting my skin clean, especially before I apply self-tanner.
Tanda Clear +
Got an unsexy blemish just days before the prom? Treat it yourself with the latest from Tanda. In just days, you'll see a reduced appearance from your uninvited prom date after using just three minutes, twice a day on clean skin. Follow it up with your favorite non-comedogenic skin care products.
Clarisonic Acne Clarification Collection
Sometimes, standard issue cleansing isn't enough. The fine folks at Clarisonic have taken the needs of acne-prone gals to heart and have paired the power of their sonic technology with a new Acne Cleansing brush head and Acne Daily Clarifying Cleanser. In a single step (though gentle enough for twice-daily use), you can remove dirt, oil and impurities more thoroughly to start the treatment process by flushing pores effectively. This new set is available in April.
SkinCeuticals LHA Solution
Before smoothing on moisturizer, a spritz or three of LHA will encourage cell-by-cell exfoliation. It's great to use before a facial (even on sensitive skin) to "loosen" the innards of your pores, making extractions easier and aiding in making pores look miniscule. Always the goal.
With this skin ammo in your arsenal, it'll officially never be the same again. In a good way.
Are you going to a PROM? Tell me everything. Go. And stay tuned for more Finest Hour hair, body, nails, fragrance and makeup suggestions tomorrow and next week.
Like this post? Don't miss another one!
Subscribe
via my RSS feed.