I love
Robert Verdi
for his game show host enthusiasm about things ranging from flatbread to a sick pair of jeans to his favorite skin hydrator. But mostly, I love that he employs his signature move–his sunglasses perched on his head–ALWAYS. It's the accessory equivalent of a signature scent and it's so freaking fierce.
So it's only natural that the veritable SHAH of shades has created his own line of sunglasses for HSN.Read on…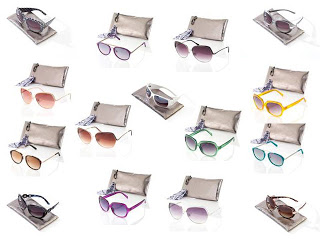 While you may not be able to afford a $400+ pair of shades from Tom Ford at the mo', you can capitalize on Verdi's high-end styles for a low-end price of $40 or less. "Every woman should have a wardrobe of sunglasses to wear with different outfits," the former Fashion Police host said. "Sunglasses are the perfect way to add a trendy flare to your style, and make everyone feel like a movie star, no matter what else you're wearing. That's why I'm bringing these sunglasses to HSN at a great price." I hit up Robert for some tips on how sunglasses can make a difference in the beauty arena as well. Here, some of Robert's ideas on how to use the power of sunglasses to suit your sundry beauty needs.
Want to skip makeup on a day shopping? Put on The Sandra. Robert says, "I love that the metal brow adds a touch of glimmer and shine to your face and is a great substitute on days when you dont want to wear any makeup. It's a short cut to a super-glam face"
Shades add a splash of color. Says Robert, "We see the color palettes in makeup constantly changing but a dramatic way to brighten up your face and add color is through a great pair of sunglasses on your head or face. People are loving the June, which is a translucent colored frame so you can still see your makeup, or the Eva which has bright matte color that really pops and steals attention"
Want to sparkle sans glitter? Robert points out that "Rose gold is a great way to bring light to your face. Think of sunglasses as jewelry for your face!"
Get your wallets AND your remotes ready: Robert and his sunglasses will make their HSN debut on February 22 and 23 and are available at HSN.com.
Like this post? Don't miss another one!
Subscribe
via my RSS feed.