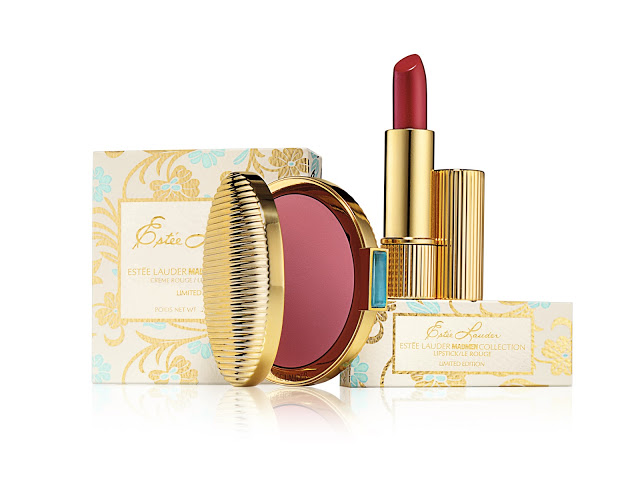 The Mad Men Collection by Estee Lauder boasts vintage-inspired
 packaging much like the original EL items of the '60s. 
He has a place in South Hampton. I'm not saying that I've seen it, but it's beautiful.– Mad Men's Joan Holloway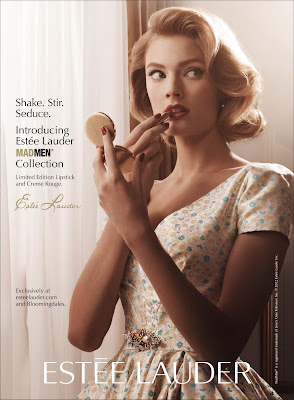 Start SWEATING, you guys. Do you have THE VAPORS over what is going on here OR WHAT? Estée Lauder is launching a Mad Men makeup collection. I know. I KNOW. A corpse is reading this. You are no longer LIVING. Here, the deets on the limited edition makeup collection.

Inspired by AMC Drama Mad Men, Estée Lauder will introduce two limited edition makeup collections. The first Estée Lauder Mad Men Collection will debut in March 2012, timed with the premiere of Season Five (by the by, it starts March 25), and the second collection will launch with Season Six in 2013.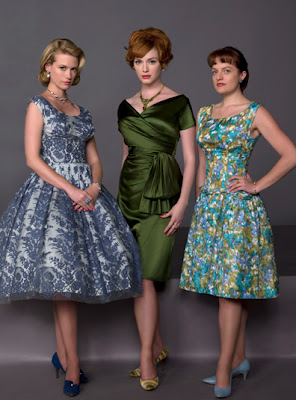 The first collection features two classic makeup items inspired by the makeup look of the women featured in Mad Men's 1960s New York City setting–see Betty Draper, Joan Holloway and Peggy Olson, above. Bold, red lips and creamy, rouged cheeks define this beauty era.
The Estée Lauder Mad Men Collection Signature Lipstick in Cherry ($25) is my new favorite lip accoutrement. It boasts longwearing color without sacrificing moisture and the red is Betty Draper-worthy. It's packaged in a fluted golden case in a leather-like gold pouch. I love how it's a petite lipstick, common in the '50s and '60s, which I know because I collect vintage makeup from that period. It also comes in its own gold leather sleeve–VERY Kennedy Administration. The Estée Lauder Mad Men Collection Creme Rouge ($40) (ROUGE. I'm so charmed, I can't believe I have pants on) in Evening Rose is blendable, buildable and highlights cheeks with a dewy, smooth and natural finish for a "don't get handsy" glow. The rouge is housed in a fluted golden compact and leather-like pouch. The outer carton for the collection is a custom design inspired by the Estée Lauder packaging from the 1960's.
The Estée Lauder Mad Men Collection will be available for a limited time beginning March 2012 exclusively at Bloomingdale's stores nationwide, bloomingdales.com and esteelauder.com. Stay tuned for an exclusive Q&A with Mad Men's makeup artist, Lana Horochowski, whom I interviewed a few years ago, as well. Check out the first interview here.
WILL YOU BE BUYING IT? SHARE.
Like this post? Don't miss another one!
Subscribe
via my RSS feed.