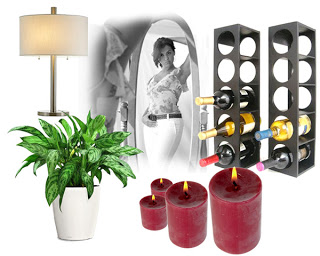 I don't know about you, but I've been OBSESSED with cleaning, purging and cutting clutter before 2012. So when I scored these tips from Michael Craig, founder of dinette.com and interior design guru on how to organize your living space, I was, naturally, right on top of that (Rose). Here they are:

Put It Away: Treat yourself to some decorative storage boxes, clear off the papers covering your desk and consolidate your bills in one box. Your work space is now not only more aesthetically-pleasing, but is more efficient as well
Don't Hate, Oxygenate: Buy a new plant and resolve to make it your friend. Promise to water and nourish it – you will be glad you did. Plants provide oxygen and warm up any setting
Get A Handle On Your Candles: Get a fresh start and replace old candles with new ones with new scents. Be adventurous and go for that red currant you've always wanted to try
Inspire Your Weight-loss Race; Gain Some (Virtual) Space: Since you have committed to get in shape this year, add incentive to stay on-track by adding a gorgeous full-length mirror. Not only will the mirror add an inspired design element to your décor, but it will also act as a constant reminder to not let yourself slip
Right Bulbs: The New Year begins in the midst of winter when the days are shorter and darker, which can have an affect on your mood. Stay cheerful no matter what the weather is outside by getting enough light inside. Add a new lamp and/or replace old bulbs with more energy efficient ones, which will also help save money in the long run
Hostess with the Mostess: If one of your resolutions is to be a better host, buy a wine rack and stock it with at least two bottles of white and two bottles of red for any impromptu gathering. Keeping a bottle of bubbly chilled in the fridge is equally as important to have on-hand – celebrate a friend's good news or serve mimosas at Sunday brunch. And of course, champagne can always be a catalyst for a lovely romantic evening as well
Battery Up: always use the New Year's occasion as a reminder to check all your batteries in all your fire detectors at home
Follow Michael on Twitter @dinetteguy to get more of his expert ideas.
Like this post? Don't miss another one!
Subscribe
via my RSS feed.