Lady Gaga's live Grammy Nominations Concert performance called upon TEMPTU to create the spirits of the dead look in "Marry the Night."
Lady Gaga's performance evoked a dark side emphasized by her skeletal body art looks originally created for Gaga's nominated "Born This Way" video. The TEMPTU team created all of her body art for the evening.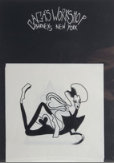 The look was inspired by Gaga's "Born This Way" Video using TEMPTU SB Foundations, TEMPTU DURA in both Biker Tattoo and Black in addition to custom-made stencils. 
GAGA'S WORKSHOP at Barneys New York has temporary tattoos created by TEMPTU available for $18. This Gaga Tattoo is available exclusively in GAGA'S WORKSHOP and on Barneys.com.