Presented by Target
Picking up some JK Jemma Kidd.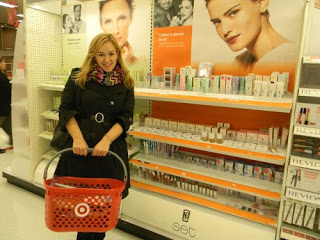 Shopping NP Set!
Shopping Sonia Kashuk's section.
Guys, working with Target, purveyor of the planet's prettiest pieces on a series of posts about their most glittering gorgeous gifts for holiday has been a ton of fun.  A couple weeks ago, I had the opportunity to Supermarket Sweep my way through the store with a $500 gift card to snap up my personal picks of their holiday offerings. So today through December 12, I'll be showcasing here on BBJ my favorite fabulous finds for everyone on your holiday list.
First up? New Target exclusive brand Nip + Fab.
Full disclosure: I love a Brit brand. I'm one of THOSE people Mindy Kaling mentioned in her book Is Everyone Hanging Out Without Me who initially bemoaned the U.S. remake of The Office. I like their humor, commitment to the letter "s," AND their beauty products. They're always cheeky; typically beautifully packaged in bright hues (the better to compensate for the dreary weather?); AND more often than not, excitingly effective! Case in point: new Brit brand to come stateside, Nip + Fab, from the same people who brought us Rodial. At a sexier (lower) price point, Nip + Fab is a Target exclusive and boasts an amazing array of fast fixers for woes ranging from dark circles to tummy bulge.
My favorite of the lot? Nip + Fab Dry Leg Fix. Given our creepy-warm clime this holiday season (seriously, I haven't worn my coat this week), festive tights may grace our gams only half the month of December. Are your stems suitable for showcasing at this juncture? In other words, you have legs, but do you know how to use them, in the parlance of a famous philosopher we both know named ZZ Top? Let's get into solutions mode, as my friend Dina says, the way Nip + Fab is simply by calling their epic hydrator a "fix." And is it ever: Just one application yields silky smoothness, eradicating dryness, leaving only a soft floral scent in its wake. At $10, it makes an excellent stocking stuffer. A partridge in a pear tree's got nothing on legs for DAYS.
The Nip + Fab Dry Leg Fix is available for $10 at target.com.
Disclosure: Product and compensation were provided by Target for this post, but all opinions herein are my own. 


Like this post? Don't miss another one!
Subscribe
via my RSS feed.