Fictionary is a column showcasing beauty-related words that don't exist, but should.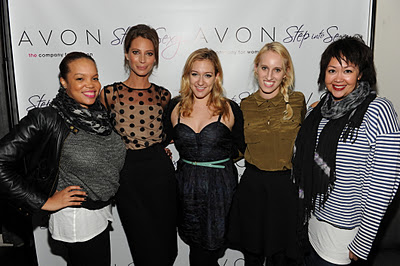 Credit: Dimitrios Kambouris for Getty Images
Here's the thing about Christy Turlington Burns. When you're in her presence, you feel as if the world is the movie Twins–and we're all Danny Devito and she's Arnold Schwartzeneger. What I'm saying is, it's always her night (bro). Taking the above photo with her required a LOT of preparation on the part of Andrea, Rachel, Kristin and myself–as if it MATTERED.
I globbed on Laura Mercier Lip Glace in Blush, touched up my concealer. But why bother when the world's most symmetrical fiercely feline-featured woman (in the most gorge way possible) is ALSO in the pic–and P.S. is a supermodel who was on a first-name basis with the world in the '90s?
And yet, she was as pleasant and easy to talk to as the woman behind you in the grocery line chatting you up. We talked at length about my lash extensions and I told her all about the storied Courtney Akai.
Christy is the face of Avon's new fragrance, Step Into Sexy, a light scent that radiates sensuality and sophistication simultaneously–much like Christy herself. It does an Inturlitation of the essential feline beauty she was born with and reconstructs it in olfactory form. The bottle is inspired by the femininity of a woman's calf as she slips into a pair of heels while its base is a shout-out to a kitten heel.
It opens with notes of black raspberry, freesia and crisp violet leaf. Middle notes include warm rosewood and violet flower blended with exotic butterfly orchid. At the base is a sultry cashmeran, orris root and golden ambers for warmth. The effect is a polite floral with a knowing sophistication and undercurrents of sex appeal. It boasts the comfort, ease and elegant appeal of a black cashmere wrap dress–with a deep V.
Step Into Sexy Eau de Parfum is available in November 2011 for $28 at avon.com. Rock it and may it be your night. Bro.
Like this post? Don't miss another one! Subscribe via my RSS feed.