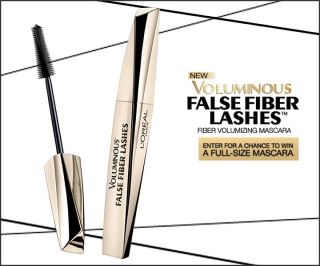 Official Mascara Correspondent Ashleigh Ciucci takes L'Oreal Paris Voluminous False Fiber Lashes Mascara for a spin. Would she purchase this one? Read on and find out.
Being a contact wearer, I tend to be a bit wary of fiber mascaras; a fiber in the eye is no good. I did a little research and found that the short and long nylon and rayon fibers are bound to the lash with a blend of polymers and waxes. Hoping this would be winning formula to prevent fiber-flaking, I dove right into the tube.
First thing I find is that there isn't a boat-load of fibers clinging to the stiff, slightly-angled and tapered brush. The brush is firm enough to control the application of pigment and fibers without getting too clumpy. With one coat, I'm left with densely-colored wispy lashes.
 With the second coat, there is a lot of volume and depth built with the fibers but not a ton of length. When I try to build length, it can get a bit spidery and clumpy. (I had to give my lashes a little comb-through.) With my mid-afternoon touch-up, it gets a bit stubby looking at the tips. It's okay at the root and deepens the pigment, but not good to pull through the tips. I love that I was able to remove it with soap and water at the end of the night.
 However, besides the fact that the fibers didn't flake into my eye, there wasn't anything about this mascara that pushed it above and beyond the rest. I'd be happy to get this mascara as a freebie, but I wouldn't run out the door to buy this one.–Ashleigh Ciucci
Like this post? Don't miss another one! Subscribe via my RSS feed.