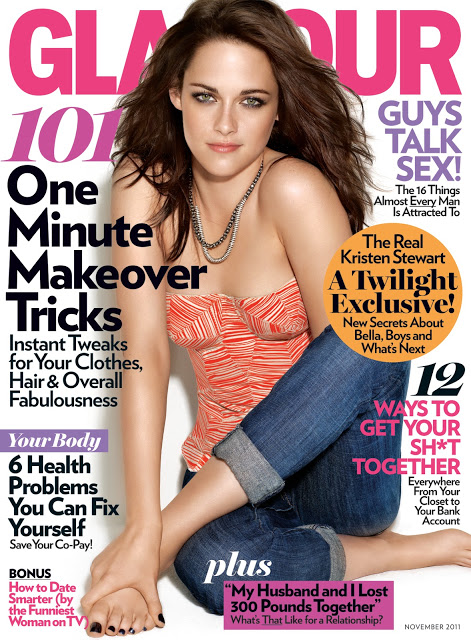 I think Kristen Stewart looks stunning on the November 2011 issue of Glamour. Inside, she talks to Twilight author Stephenie Meyer about her role as Bella, boys, and what she wants to do next.  Quotes and more photos below.

Kristen Stewart and Stephenie Meyer on watching Breaking Dawn with costar Taylor Lautner
Stewart: "It's fun to watch with him because we actually sit and watch it. Me and Taylor are actual Twilight fans, so we can sit there and be totally into it! Whereas I sit there with Rob…he likes it, but he has just such a different energy."
Meyer: "Oh, Rob and Taylor have completely different energy! Watching it with Taylor, you feel afraid that you'll get ice down the back of your neck or a grape in your face."
Stewart: "Totally."
Photographed by Matthias Vriens-McGrath in Culver City, California, Kristen appears wearing a striped Bottega Veneta top, Current/Elliott jeans and white gold and diamond necklaces by Martin Katz and Jordan Alexander at Fragments. And from her inside spread, Kristen wears a Sosume white T-shirt, Peter Som lace shorts and Alexander Wang shoes and she wears a lace dress by Stella McCartney, a De Beers white gold and diamond bracelet and Ash boots.
What do you think of Kristin Stewart's Glamour-ous look?
Like this post? Don't miss another one! Subscribe via my RSS feed.