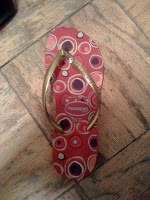 Isn't it funny how you can have virtually no connection to a place or a thing and then all of a sudden it's all kinds of up in your face apropos of NOTHING? That's what's happening with me and Brazil. Mind you, I've never been (although I'd LOVE to go.) My roommate Carrie recently returned from a ten-day sojourn and had the most lovely time. She brought me back these DELIGHTFUL Havaianas (pictured, left), part of Brazil's new Summer 2008 Collection (it's going to be summer there soon, wild!) Anywho, in Brazil, you get to choose your own darling little baby rhinestone FLOWER which lives on your flip flop's strap. But you can only get this accoutrement in Brazil! Carrie chose my polka dotted flips because of my dotted iPhone screensaver. Are they not to die?


That same day, a bottle of Caress Exotic Oil Infusions in the Brazilian scent (of course) came into my lifestyle. It's a cream oil body wash and I am LURVING it. It's just the antidote to the drier, crisper weather we were having in NYC last week. I'm deeply into its creamy consistency and its warm, yet fruity aroma. At $6, can you even begin to pass it up? Not in this economy!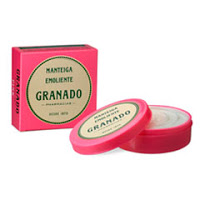 Last night, I was on the receiving end of a package of products that were actually SENT TO ME FROM Brazil. The brand is Granado Laboratories and they make the cutest pink apothecary-style packaged foot products. I'm most moved by the Manteiga Emoliente, which means moisturizing butter. It's non-greasy but super-hydrating, easy to apply and contains fun exotic ingredients like murumuru, cupuaçu, and karite butters. Is the packaging (pictured, left) not GORGEOUS? I have never in my life seen a pink more beautiful. I don't care that the instructions/ingredients/product name is entirely in Portugese, and that I had to consult the press release to even figure out what I was using. The fact that it's the cutest thing I've ever seen AND it moisturizes my dry heels like a dream awards it MUST-HAVE status.
What is it about foreign products that makes them seem SO MUCH better? I can't take a vaca without coming home with several beauty delights indiginous to the culture I've just taken in. It's simply part of the package, like sightseeing.
Beijos,
Amber