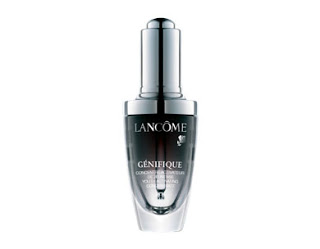 The second annual Lancôme Genes Day, a one-day fundraising event will be held on October 21st to benefit St. Jude Children's Research Hospital. On this day, Lancôme will donate $7 from the sale of every bottle of Génifique Youth Activating Concentrate ($78 for 1 oz.) to support the lifesaving research and treatment done at St. Jude. You can purchase the product at the counter or on lancome-usa.com. Ten years of research and development went into this serum, which uses genomics (the study of gene expression) and proteomics (the study of protein synthesis) to stimulate the production of the proteins associated with young skin. Do you know about St. Jude's Hospital and how it works? Read on…

I'll admit it: My knowledge of St. Jude's Hospital was limited to Jennifer Aniston and Robin Williams talking to me about it in a commercial before I took in a Ryan Gosling flick at my local movie theater. I knew that it was started by the late entertainer Danny Thomas, father of Marlo. And I'd think, this is a wonderful, worthy cause but I already donate to so many charities and I just don't have the budget to take on another at the moment. And as a Jewish girl, I'd (wrongly) assumed it was a Catholic organization that was deeply religious and evangelical. When Jennifer Aniston claimed on the big screen that no child is turned away because they couldn't pay, I thought, how lovely. But I imagined at some point in their future they'd be stuck with some insurmountable bill. It's cynical, I guess. But isn't that how things just… work?
It turns out that's most patently NOT how things work at St. Jude. I know this because Lancome was generous enough to bring some other online beauty writers and myself there to tour the hospital's campus in Memphis, Tennessee to see for ourselves. Naturally, my gal Abby Gardner and I were anxious that this would be a tour would be sad beyond the beyond. The "tour of tears," as Abby referred to it. But it wasn't. First, some background on how St. Jude's came to be.
In the '30s, Danny Thomas had a baby on the way (Marlo) and his entertainment career just wasn't taking off. He spent his last $7 donating at a church and praying to St. Jude (the patron saint of the hopeless) for a sign that he should stick it out in showbiz or throw in the towel and get an office gig. He said that if he made any money in this business that he'd build a shrine in St. Jude's honor. The next day he landed a radio job paying $70, an enormous sum by 1930s standards. He later went on to make $500 per week and then became famous the world over when he starred in the TV show Make Room For Daddy. Danny never forgot his promise and indeed did build a shrine in the form of a research hospital for children with catastrophic diseases, particularly pediatric cancer. There are no costs for the children to receive care nor associated room and board and food costs. Entire families uproot themselves to live at St. Judes (many of whom live in the apartment-style abodes at Target House, a mansion sponsored entirely by Target nearby) and live gratis while their children receive the care they need. Nearly every extraneous stress is simply removed from the equation–food is paid for for the entire family, errands are run, rent is a non-issue–so the family can focus psychologically (FULLY) on getting better.
The hospital itself boasts a filtration system so that it doesn't even SMELL like a hospital–which was amazing. It's truly a special place of hope. I wouldn't believe it if I hadn't seen it for myself–but the children are, for the most part, in good spirits. They attend school, do arts and crafts projects, hang out with friends, express their feelings about being stricken with such a terrible disease at such a young age–in a healthy way. Our group put together some hangable cow, pig and duck wall decorations and one little girl who was only 5, bald and showcasing what looked like a protruding brain tumor wanted to make all three animals–one for her, the other two for her brother and sister, she told me. She was a total perfectionist/overachiever about it and at that moment seemed happy, completely unaffected by her grave situation. It was a major reality check for me, someone who makes a living writing about… lip gloss, Justin Bieber and the odd retirement fund prospectus. The entire place is decorated in lively colors and themes–for instance, there's a waiting room with a beach theme while a sky with clouds adorns another treatment room. We chatted with some of the research physicians on staff at St. Judes and they're doing amazing work with genes to discover earlier cancer so that it can be prevented. One of their doctors received the Nobel Prize in 1996. They are ACTUALLY curing cancer over there.
It takes $1.7 million dollars A DAY to run the joint. Okay? They depend entirely on donations from individuals and corporations. It costs that much to cover the salaries of the people working there, the care for the kids, their families, transportation, etc., so that they're never stuck with a crippling bill. It's an amazing system–and it works. It made me wonder why ALL hospitals don't function this way. So what can you do to help? Stock up on Genefique, an amazing anti-aging elixir.You'll not only pamper yourself, you'll help someone else. Please donate directly, as well, to St. Jude. For more info go to stjude.org.
Like this post? Don't miss another one! Subscribe via my RSS feed.