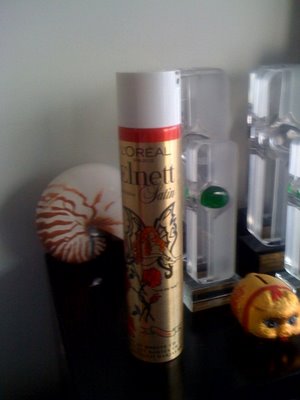 I met with veritable titan of the beauty industry, ELLE Beauty Director Emily Dougherty yesterday. In her office (amongst what looks like Emily's trophies for simply being awesome), I spied this glam special edition L'Oreal Elnett can created by Swedish designer Odd Molly (pictured above). In the words of the great Diana Vreeland, is not the "most gorgeous thing since the gondola?"
Elnett, BT dubs, is so good, it's literally illegal: the U.S. has banned Elnett's original formula–there's a tweaked version sold at Target–since 1987 due to the use of ozone-damaging flourocarbon propellants.
"The bottle is actually from Sweden," she told me with a knowing glance. "Let me know if you need to stop by before a major event." I've got about half a bottle left from a 2004 trip to Spain (I won't leave Europe without at least a QUART of the stuff). But it's nice to know that a fellow beauty homie has my back!
Like this post? Don't miss another one!
Subscribe
via my RSS feed.