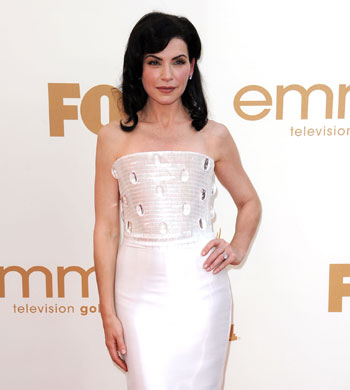 Hairstylist Matthew Monzon created Julianna Margulies' 2011 Emmy Awards hairstyle using Leonor Greyl products. She won the award for best actress in a drama, and while her dress looked as if it has some kind of dermatological disease, her hair was positively gleamingly healthy and her makeup was radient. Read on for how-tos for both.
Says Matthew, "For Julianna Margulies' Emmys look, I wanted to mirror the glamour of her gorgeous Armani prive gown with an old Hollywood, Veronica Lake-inspired style. However, I still wanted Julianna to look modern, so I kept the style somewhat deconstructed.
I started with damp hair and worked Leonor Greyl's Lait Luminescence Bi-Phase Detangling Milk through her hair, applying the product only from the mid-shaft down through the ends so as not to over-saturate it.
To create volume, I combed Leonor Greyl's Mousse au Lotus Volumatrice through the hair with a wide-tooth comb and blow-dried it using a two-inch round brush. I made a deep side part on the left and then set the top portion of her hair in Velcro rollers for a little bit of extra oomph.
Then, I started to work on the back:
· Making sure to spray Leonor Greyl Voluforme Styling Spray for Volume and Hold to each section before curling, I used a 1½ inch curling iron to barrel-curl the bottommost layer of Julianna's hair in a uniform direction
· I created another layer on top of that one, barrel-curling the sections but this time changing the direction of the curl from that of the first layer
I continued this pattern for remaining portion of the back of Julianna's hair by creating layer on top of layer, maintaining the direction of the curl within one layer and switching to the opposite direction for the next. Alternating the direction of the curl between layers allowed the hair to fall into the wave that I was hoping to achieve.
After completing the back of Julianna's hair, I removed the top half from the Velcro rollers and brushed through with a boar bristle brush, creating a soft wave with my fingers.
To complete the look, I finished with a spray of Leonor Greyl's Laque Souple Light Styling Spray for hold."
Julianna's makeup is all L'Oreal Paris. Products used include:
L'Oréal Paris Revitalift Clinical Repair 10 Laser Corrector Day Treatment
L'Oréal Paris Studio Secrets Professional Magic Smooth Soufflé
L'Oréal Paris Studio Secrets Professional The One Sweep Sculpting Blush in Poppy
L'Oréal Paris Voluminous Million Lashes Mascara in Carbon Black
L'Oréal Paris Infallible Le Rouge in Opulent Organza
What do you think of Julianna Margulies' hairstyle and makeup?
Like this post? Don't miss another one! Subscribe via my RSS feed.