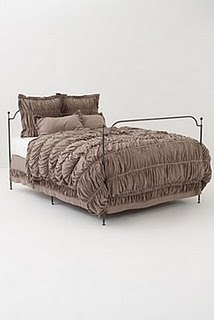 FACT: I received a 15% off coupon during my birthday month for being a card-carrying Anthropologie shopper and therefore rationalized some retail therapy in the form of the Nimbus Duvet I've been obsessing over for months.
Yes, it was an overpriced little bitch. But know what? I slept better than I have in MONTHS last night, thanks to its jersey goodness, which was like a million little bunny noses kissing me good night in textile form, to paraphrase the sage words of Elle Beauty Director Emily Dougherty (who once described La Mer's texture to me that way).
So WHAT that I just spent $44 each JUST on the pillow shams? I'm comfortable with my purchase.
Yours in home decor splendor,
Amber
Like this post? Don't miss another one! Subscribe via my RSS feed.