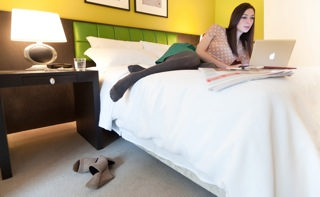 Isn't it just plum irritating how quickly we go through tights? Just today I had to throw out a pair I innocently had in my drawer, not realizing they were pilled beyond the beyond AND had a hole in the toe. These tights were all, "no way, HOSE-ay." Luckily for me, a new site called Hoseanna just launched! It's hosiery–by subscription.
The site offers a carefully curated collection for women to purchase tights and offers a great selection of brands, such as Hanes, DKNY and Hue. Hoseanna also offers a few fresh faces in the market like Bootights (one of Oprah's 2011 Fall Must-haves) and the UK's Pretty Polly.
Instead of a wine of the month club, indulge in a TIGHTS of the month club. Get involved at hoseanna.com.
Like this post? Don't miss another one! Subscribe via my RSS feed.