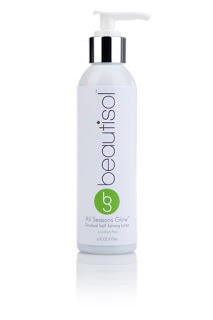 Pale vixens of the world, listen up. You'll want to get involved with this laundry-fresh scented self-tanner that yields a brown (never orange) BELIEVABLE glow by Beautisol. It's called All Seasons Glow, a gradual self-tanning lotion ($39).

I recently met with Beautisol founder and Self-Tanning Queen Sinead Norenius who told me how she formulated such a pleasant-smelling tan creator. Her chemists went through multiple rounds of creating prototypes of the juice using many iterations of DHA. Sinead kept sending them back to the drawing board until they came up with one that smelled completely un-DHA-ey, even after a full overnight with the product. True self-tanning junkies know the telltale icky DHA scent is most strong in the morning, after the stuff fully develops. Beautisol, while its fresh scent is very strong, on me smells totally clean. A feat most impressive.
Also, over lunch with Sinead, I scored this genius tip of hers for those times when you're stuck on vaca with no tanner to speak of and you're about to unveil your copy-paper white bod on the beach. Simply mix up some black tea with some water and squirt it on! Says Sinead, the darker the tea, the better. Brew 4-5 bags, then let it sit and cool. Then put it in a squirt gun and spray and it will impart a light stain on the skin.  It'll wash off in the shower, but will allow you a full day of brown, gorgeous skin. It's great if you're allergic to DHA. Genius!
Friends, what's your favorite non-smelly self-tanner?
Like this post? Don't miss another one! Subscribe via my RSS feed.