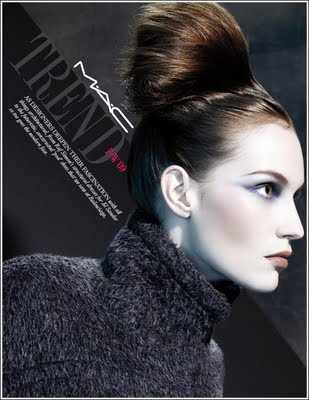 The shapes and steely colours in this collection are an expression of the trend, an ode to the strength of a woman, rendered with true architectural precision. The geometry of eyes in graphic, graphite tones of grey with the beguiling blue sheen of an elegant grid of sky-reflecting windows on a stunning concrete skyscraper, Trend F/W '09 is a living tower of power! Lips are dark or seductively nude. The fragrance? Asphalt Flower, a limited-life scent as bold and urbane as the modern metropolis.
Fragrance ($20.00 U.S. / $24.00 CDN)
Asphalt Flower Glossy violet and iris petals cast an ebonized sheen over dark clouds of vanilla and patchouli like a shimmering lace veil this scent caresses and envelops of glamour and drama. Top note: violet, ylang; Mid: iris, heliotrope; Dry: olibanum, patchouli, vanilla.
Lipstick ($14.00 U.S. / $16.50 CDN)
Red Full Stop Bright neon coral (Lustre)
Hipster Burgundy with frost (Frost)
Faultlessly F/W Blackened blue violet (Amplified)
Our Pick Cement taupe grey (Satin)
Lipglass ($14.00 U.S. / $16.50 CDN)
Runway Fave Grey tone neutral with high pearl (Frost)
New Berry Deep plum (Cream)
So This Season Deep blue violet (Cream)
Eyeshadow x4: Tone: Grey ($36.00 U.S. / $43.00 CDN)
Tone: Grey Dirty grey (Satin)
Waft Dark smoky blue grey (Frost)
A Warmer White Pale green grey (Satin)
The Right Smoke Rich blue with white pearl (Frost)
Availability: September 17, 2009 at all North American MAC locations. October 2009 for International MAC locations.
Like this post? Don't miss another one!
Subscribe
via my RSS feed.